Columbus Treks
Username:
columbus
Hometown:
,
Languages:

English

,

English

Gender:

male

Age:

21-25 years

Interests:
Camping, Fishing, Hiking, Skiing, Sports, Swimming, Travel,


Comment:
Aiming and achieving the highest standard of tourism professionalism providing excellent services to the valued guests and generating employment opportunities to the local people through exploring viable options for maintaining sustainable tourism is the
Signature:
Columbus Treks & Expedition (P) Ltd.



Displaying last 2 events.

Thursday, March 29 2007

columbus joined GLOBOsapiens! Welcome!


columbus uploaded a new profile picture.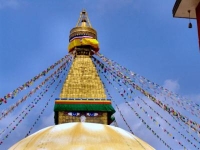 Visitors: 3,177
Member since: Mar 29th, 2007
Was online: Over a month ago



Activity index: 6%




No group memberships so far