Amy Gao
Username:
fireflyxox
Hometown:
,
Languages:

English

,

Chinese

,

French

Gender:

female

Age:

21-25 years

Interests:
Travel, Sports, Skiing, Running, Reading, Photography, Music, Movies, Hiking, Fishing, Dancing, Computer, Camping, Backpacking, Art,


Comment:
Hi! I'm planning on traveling all around Europe from mid-December to early-January. I don't have any specific plans yet, and would be up for visiting anywhere from 5-20 countries. Let me know if you're interested in traveling with me!



Displaying last 4 events.

Friday, September 12 2008

and Amy Gao are now friends.


Thursday, September 11 2008

New posting in "Travel Partners":


Amy Gao uploaded a new profile picture.


Amy Gao joined GLOBOsapiens! Welcome!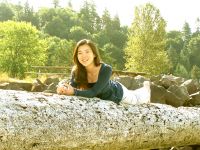 1 friends

Kathmandu



Visitors: 1,371
Member since: Sep 11th, 2008
Was online: Over a month ago



Activity index: 6%