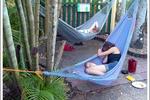 We provide a 24 hour check-in service but you need to let us know in advance if you are going to arrive outside reception hours so we can organize your key (if you are arriving by flight after midnight make sure you book your first night for the correct arrival date (usually this will be the date your flight departed). Our reception is open from 7.30 am till noon, and between 4.30 pm and 8 pm.
We offer 10% discount on most of tours pre-booked through our website to our guests.
Check out our special offers; Vouchers for discounted meal deals for inner city pub/bar available at reception any night you stay (guests must be over 18 years old for these meal offers), free WiFi, free air-conditioning in all dorm rooms during Summer, ($4 extra for private rooms), free tea & coffee, free tour and travel information, and free book exchange! You can also get a discounted shuttle from the airport to the hostel.
Chill out in our shady backyard, enjoy the swimming pool, TV and tropical dining area, and free wireless internet to keep you connected!
We offer clean and comfortable single, double, twin, 4 and 6 bed dorms. The dorms all include air conditioning except for the cooler months from April to October. For private rooms air conditioning is an extra $4 per room.
Please note that for children we have a minimum age of 18 years in a dormitory room, and a minimum age of 7 years in a private room.
The friendly and helpful staff have lots of good local advice and information about tours including access to standby specials.

Internet Access


Laundry


Linen Included


Towels


Travel Desk/Travel Info


Common Room


Bike Parking


Free Carpark


Breakfast Not Included


Air Conditioning