Colin
Username:
ilporko
Hometown:
,
Languages:

English

,

Irish

Gender:

male

Age:

26-30 years

Interests:
Acting, Computer, Hiking, History, Photography, Reading, Sports, Theatre, Travel,


Comment:
Qua certum impossible. That which is impossible is the best solution.
Signature:
'American boy... stupid boy. Give me price and we make deal'.. Chinese saleswoman speaking to me.



Displaying last 2 events.

Thursday, February 22 2007

ilporko joined GLOBOsapiens! Welcome!


ilporko uploaded a new profile picture.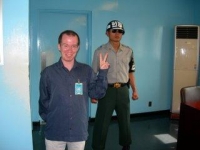 Visitors: 1,753
Member since: Feb 22th, 2007
Was online: Over a month ago



Activity index: 6%




No group memberships so far