michelle
Username:
missmichelle
Hometown:
,
Languages:

English

Gender:

female

Age:

16-20 years

Interests:
Art, Backpacking, Dancing, Music, Running, Swimming, Travel,


Comment:
Hey Guy/Gals
In search for someone who likes to have a good time....hopefully hit up some beaches, check out the scenery and to find some great night clubs down under, if you're interested give me a shout.
Cheers



Displaying last 3 events.

Sunday, August 15 2004

Group reply:


Wednesday, July 28 2004

missmichelle uploaded a new profile picture.


missmichelle joined GLOBOsapiens! Welcome!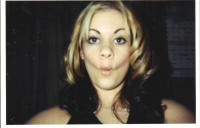 Visitors: 3,422
Member since: Jul 28th, 2004
Was online: Over a month ago



Activity index: 6%