Vanessa
Username:
nessie
Hometown:
,
Languages:

English

,

Italian

Gender:

female

Age:

41-45 years

Interests:
Swimming, Sports, Reading, Music, Movies, Cooking, Travel,


Comment:
Looking forward to discovering new places and people in 2010...
Signature:
"We live in a wonderful world that is full of beauty, charm and adventure. There is no end to the adventures we can have if only we seek them with our eyes open." – Jawaharial Nehru



Displaying last 3 events.

Tuesday, December 22 2009

Joined the group


nessie uploaded a new profile picture.


Monday, December 21 2009

nessie joined GLOBOsapiens! Welcome!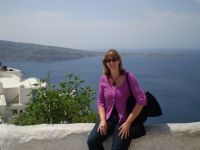 Visitors: 1,919
Member since: Dec 21th, 2009
Was online: Over a month ago



Activity index: 6%