Hi there! Welcome to my travel log. Usually, I don't take notes or keep a journal on my trips and travels. I rely completely on photos as they are self explanatory and are the best memory log. I hope you will enjoy them.
Jun 13, 2003 06:00 PM
Trip to Liepzig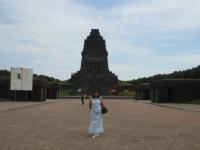 A day out with the gang and we decided to explore Liepzig. Andreas Rao arranged for a city guide for us whilst he was busy learning chinese with his companion. It was quite fun. This photo was taken just outside the Monument in Leipzig.


Jun 07, 2003 06:00 PM
The Journey Back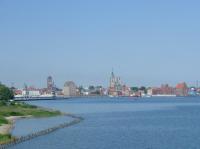 After a weeks stay at Isle of Vilm we headed back to Dresden. I took this picture just after we passed the bridge to Rugen island. In the foreground, is the mainland of North Germany.


Jun 05, 2003 06:00 PM
Cherry Picking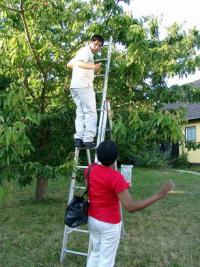 Isle of vilm has many old fruit trees around the settlement. This cherry tree was bearing fruit and were delicious. Here one of the participant found a ladder and started helping himself and others (ok ok.. me too) to these sweet cherries. No wonder why the ladder went missing the next day!


Jun 04, 2003 06:00 PM
Spectacular Sunsets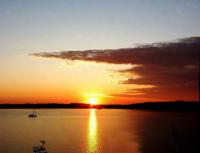 As much as I look forward to the delicious meals provided for us at the canteen, I still would opt for the sunset. Fortunately, dinner is served at 6.00pm which gave me ample time for an evening walk to capture this sunset.


Jun 04, 2003 06:00 PM
Walk up the hill for a good view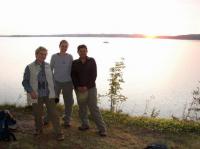 The walk up the hill takes about 20 minutes. I had to change and bring along my camera. It gets really chilly at dusk and mosquitos are rampant. So insect repellents and a thick jacket are a must. Here with friends, we captured the sunset.


Jun 04, 2003 06:00 PM
Isle of Rugen - Home Design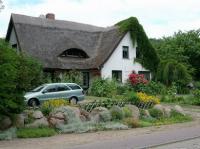 Before we trekked into the historical landscapes of Rugen Island, we walked across several villages. This house captured my heart with its beauty and serenity.


Jun 04, 2003 06:00 PM
Rugen Island - village garden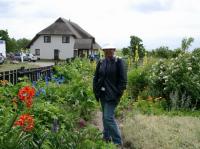 This little garden captured my eye during my walk around Rugen Island. It was full of different kinds of flowers and were very colorful. It shows how such a small space can be converted into a beautiful garden.


Jun 03, 2003 06:00 PM
Karl-May Fest (should be entered as 14/05/2003)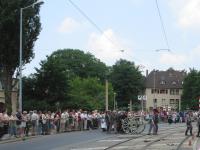 This is an interesting Festival that commemorates the works of Karl-May, a well known german author. His books are mainly about stories of Native American folks in America and are much loved by children in Germany.

Every year, Native Americans and other Ethnic groups (and Germans too!) gather at this town (name of which I could not remember at this time) and celebrate this festival.

There were many products from South America too. I managed to grab a few dreamfetchers and some leather bracelets.

It was interesting.


Jun 03, 2003 06:00 PM
Seminar Break
The day began with 4 sessions on different subjects of Sustainable Development and Biodiversity preservation. We were naturally exhausted and look forward for our lunch break. This photo was taken just before the next 4 sessions and Fish Banks which is to last until 8.00pm (yikes!!!)


Jun 03, 2003 06:00 PM
Workshop and Fish Banks Game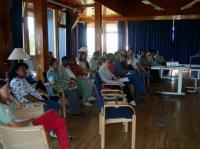 Third day on the island and finally some good weather. Unfortunately, this time we had to spend it indoors to complete our 3 days workshop before we could begin our excursions on the island and Landscapes in Rugen. This picture was taken during the BFn presentation during the workshop.