May 20, 2013 12:00 AM

In between

Time to go for a short journey again. This time I am going to see Azores Island on the Atlantic Ocean. As I have only 9 days I am not going to see all the islands. But Sao Miguel, Sao Joao and Terceira are on my list. I just hope that the weather will be great.


Mar 13, 2013 12:00 AM
Sri Lanka impressions
Today I finished my Sri Lanka journey. I must admit that the island won't leave you indifferent. Some things are irritating but generally it is a lovely place. It has all the package - great beaches in the south, stunning mountains in the central part of the country and old architecture in entire country. I didn't reach north of the island, until lately there were some fights there but now is safe to travel and visit North and Jaffna region. People are kind and helpful (even more in less tourist attraction). Can't wait to pack my backpack again :)


Mar 12, 2013 12:00 AM
More money than people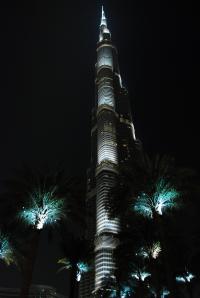 Today I left Sri Lanka. With a very good weather I could see some island of Maledives. My flight ticked allowed me to have almost 24 hours stopover in Dubai. Moreover Emirates Airlines are so kind that they offer me free visa and hotel voucher. Having entire afternoon I went to see Dubai. Many things has been said about the city and the truth is that city is very impressive and very modern. A lot of skyscrapers but also some signs of crisis (quite few unfinished building constructions). Dubai is very expanded, even if it has great metro system (with air con stations) distances are huge (from Burj Khalifa to Dubai Marina more than 30 kilometers). I went to see Dubai Marina but unfortunately I didn't get close to the artificial island then I went to see Burj al Arab hotel (also didn't get close to it). The rest of the evening I spent in Dubai downtown next to fascinating building of Burj Khalifa (entrance to view terrace 400 AED, booked via internet 100 AED). It was exhausting day.


Mar 11, 2013 12:00 AM
The best advertisement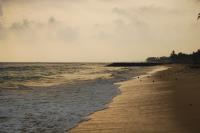 After few last days full of bus travels I had to rest little bit. So I decided to shorten my stay in Anuradhapura and in the morning I took a bus (again - but for the last time ) and around midday, after four hours ride I reached Negombo. It is one of the biggest tourist spots on the island and it has all infrastructure. It wasn't even that difficult to find a good not expensive accomodation. Another importance of Negombo is short distance to the airport. Negombo has a very long beach. Less spectacular than the ones in south of the island but still nice. So at the end of my holidays I spent some time on the beach - sunbathing and swimming in the Indian Ocean. When I came back to the hotel the owner saw some black sand on my feets and he said "it is probably because of the licking ships fuel" :) It was the best advertisement that I heard ! Swimming in the Ocean during sunset was wonderful experience.


Mar 10, 2013 12:00 AM
Spell it quickly - Anuradhapura :)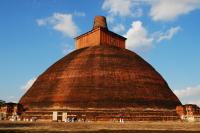 Only 110 kilometers and 3.5 hours in a bus. But finally in early afternoon I reached Anuradhapura (how many problems I had to pronouced it correctly on a bus station). At the first sight it is very unapealing town. The center is chaotic and there is absolutely no interesting architecture. But the treasure of Anuradhapura is hidden outside the center of the town. Just few kilometers further are ruins and remniscents of ancient Syngalese capital. Some historians says that during its heydey Anuradhapura could have even 2 milion habitants and was one of the biggest cities in the world. It was abandonned more than 800 years ago. Today it is hard to imagine this 2 milion but some fantastic architectural gems remain. The best preserved are dagobas: white Ruvanvelisaya, brick made Abhayagiri and the biggest one (also brick made) Jetavanarama (which now is about 70 meters high). Bicycle is the best way to discover all these places (as they are spread on almost 19 kilometres). On my way back I could see people having bath in the lake. The evening I spent listening worshippers praying to Sri Maha Bodhi (oldest tree in the world). Unforgottable experience...


Mar 09, 2013 12:00 AM
Mission almost impossible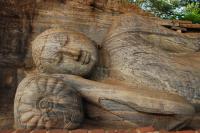 I rented a bicycle for entire day. Although I was not that sure about this idea it was great and I survived crazy Lanka drivers. The ruins of ancient capital of Polonnaruwa are very spread so the best way to see them is with a bicycle. After paying the entrance fee (25 usd) I had a half of the day to sightsee the area. A tip for the one who will plan to visit Polonnaruwa. It is better in the morning, as in the afternoon sun shine behind the temples and it is very difficult to take a good picture.
Polonnaruwa was built almost 1.000 years ago, by the King Vijayabahu I. Until today many splendid ruins of the buildings survived. The greatest are Quadrangle, Lankatilaka temple and the statues at Gal Vihariya (huge images of Buddha carved in the rock). After I spend the evening having long bike ride next to the artificial lake. I found out that people here to protect against mosquitoes use special lemon liquid. I don't know is it work that well but I must admit that I like my lemon perfumes :)


Mar 08, 2013 12:00 AM
Rain on the rock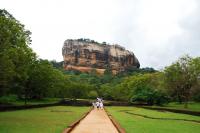 Sigiriya is a small village located on Sri Lanka plains. A huge rock located in the middle of the village make its center. It is a place chosen by the King Kassapa to built here its capital. The entrance fee is same high as the rock - 30 usd. From the early morning weather was not the best. It was very cloudy. Then after an hour of sightseeing a huge tropical rain came. It was heavy raining for more than 20 minutes and I got almost completely wet although some local guy shared with me his umbrella (thank you very much Sir!). Then I could hike again. It takes around two hours to get on top of the rock (depending on how many school students is there). From the top is wonderful view over the area. Lush forest and with mountains in the background. I could also see the frescoes in one of the walls. In one of the niche is a series of paintings of buxom, wasp - waisted women, popularly believed to represent either apsaras or King Kassapa's concubines. Another magnificent reminiscent of King Kassala are the brick made 5 th century Lion's Paws (the only thing that survived from huge Lion statue). On my way back another storm came to Sigiriya.


Mar 07, 2013 12:00 AM
The Mammal bath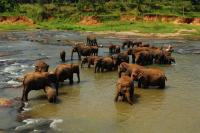 As I missed the Uda Walewe National Park, the next best place to see the Elephant is in Pinnawela Elephant Orphanage. It used to be a place to save the elephants but now is more like zoo. I paid 2.000 rupias for the entrance and I had a chance to see a huge group elephants having bath. They were lovely. Small elephants were playing and having fun and the older ones were looking after the youth. But I could also see the chains on some elephants legs and if tourist want they can have a ride on an elephant. So I truly don't know what to think about the place. If it is still a place to save this big mammals or it is a place to earn money. After I took a bus to Dambulla. There are magnificent cave temples with many Buddha statues and figures (entrance fee 1.500 rupias). The biggest effort was to climb up.
There is one interesting thing here. In every tourist attraction, every time I see many school students. There are hundreds of them. On one hand is good to know the history of a country, but it is impossible to sightseeing anything in calm. And the students are always more interested in foreigners than in the place they are in that moment.


Mar 06, 2013 12:00 AM
Candy Kandy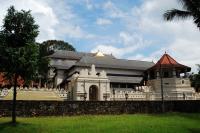 Kandy is a first of historical sites in Sri Lanka that I wanted to visit. Everywhere it is said that it is the most pleasant city in the country. The city has a huge lake in the middle and famous Temple of the Tooth. The Tamil tigers tried to blow it up in 1998, they didn't succeed and after big destruction the temple received a huge face lift (admission 1.000 rupias, legs and shoulders should be covered). After visiting the temple I walked around the city. It has everything - very lively, many historical buildings and other religious places (Hindu and Christian temples). After seeing that I decided to have a look on two temples located in Kandy's vicinity. I took a bus to Empakka (I never seen such crowded bus) and there as the temple is around 1.5 kilometers I took a tuk tuk. Unfortunately the temple was full of school students and it was impossible to see something there. Moreover some greedy monk demanded from me 200 rupias for admission, although entrance should be for free. Then I went to see Lankatilake Temple. It was simply stunning. Two temples in one located on a high hill over the village.


Mar 05, 2013 12:00 AM
We have only bluer trains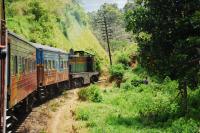 I was little bit worry about the weather after yesterday rains, but from the early morning it very sunny. I had a great, easy hike to Little Adam's Peak from where are the great views over the Ella's Rock, Rawana waterfalls and Ella's gap. Marvelous. Then I took a short bus ride to the Rawana waterfalls, which are also very nice. But I was already in a short of time - so I packed quickly, I took tuk tuk to the train station, to embark the train to Kandy. There are few classes of journey, but as yesterday 2nd class was very comfortable I decided to take the same ticket (250 rupias = 2usd). I asked the station manager, if it will be the same type (blue) of train and he confirmed. But when the train arrived it figured out that it was very old type of train. So instead of having comfortable journey I had an adventure. The journey was marvelous. Small stations (surprisingly very well maintained), slow train many local people inside. The route leads through stunning areas. Views were breathtaking. High mountains, deep valleys, tea plantations..... When I got to Kandy it was already dark (journey took 6,5 hours).