You can lose everything, but nobody will take away what you saw and what you experienced...
............
Oct 13, 2017 12:00 AM
Through the bridge to Costa Rica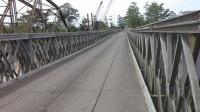 There are many water taxis ready to take you from Bocas to the port Almirante on the continent but budget travellers preferethe cheaper option - big car ferry departing at 10 am at selected days. They charge only 2 USD for 1,5 hour journey. After landing in Chiquita Bananas port I took the main road to reach local bus terminal. Little bus departed at 12 took me to the big town of Chiguanola (1.50 USD). There at the bus terminal I changed to the yellow school-like bus going to the border town of Guabito (1 USD). 100 m from the stop I found immigration office to get an exit stamp in my passport. Then I walked through the border bridge. Just after the bridge there is immigration post of Costa Rica. Here I got entry stamp of CR. Touts will bother you here offering minibus ride to Puerto Viejo for 10 $. Let you know that there is bus termi al hidden in the courtyard down from the post, only 60 m away. Here you can catch public bus to Puerto Viejo for jus 3 USD.
I reached Puerto Viejo around 3 pm local time. Palms, beach, reggae music. Welcome to Costa Rica!


Oct 12, 2017 12:00 AM
Paradise islands....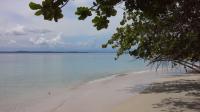 Bocas del Toro consists of more then 10 islands of different size. They are almost flat and covered by lush, jungle vegetation. Several boat agencies on the waterfront in Bocas Town offer day tours to the islans. They all starts at 10 am and have similar program. Ticket cost me 30 USD including 10 $ nat. park fee and 2 soft drinks. Up to 12 people per boat.
At the begining we went to Dolphin's Bay. You must be lucky here. On that day only one dolphin was performing fo 9 boats with the tourists. Then we were sailing to the southern end of Iska Bastimiento to order the lunch - will be taken 3 hours later.... Then for 2 hours to the little Cayo Zapatilla with great beaches around. This was the highlight... I took here the walk around the cayo enjoying the nature - 2 hours is just enough to make a loop and to swim.
Then our boatman took us for 45 min to the snorkeling area - 5 m deep - to see fish and coral. After lunch we were sailing onward through the maze of mangroves to see the monkeys on the little island and plenty of starfish on the shallow waters - from the boat only... I was a bit exhausted when we returned at 5 pm, but it was another great day!


Oct 11, 2017 12:00 AM
Meeting Polish priest...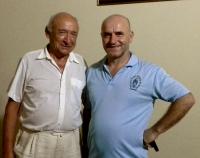 Polish Catholic priest on remote islands of Bocas del Toro? Yes, I found him and this was very pleasant meeting. We spent few hours talking about the Panama, about travelling and the whole world. Father Jozef Gwozdz doest not look like a missionary - full of vigor and energetic. He works on the mission in Panama since 5 years and knows well local community. We also came to the conclusion that we have mutual friends: famous Polish biker Piotr Strzezysz and father Kowal working in Russian Kamchatka. All the best for the future, dear father Jozef!
I took a walk to the local cemetery - so different and so poor and then to nearby Cabana Beach where locals are swimming. But the sand here is not white, so I decited to take the boat tour to the smaller islands of the Bocas Archipelago. In Bocas Town at the waterfront there are many little agencies offering day tours by boat - the typical price is 30 dollars including 10 $ entry fee to the national park. I signed for one of them...


Oct 10, 2017 12:00 AM
Bocas del Toro - Panama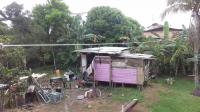 You know that the islands fascinate me. Since long time I was dreaming about these little is lands... Bocas del Toro belongs to Panama and lie near the border with Costa Rica. Yes, you can get here from Panama City by bus, making a big loop - it is like 600 kms to Almirante and then use a ferry to sail to Colon Island. Long and time - consuming way... I decided to fly on little fokker 50 of Air Panama. 50 minutes in the air, great views, 100 USD...
From the tiny airstrip on isla Colon it was walking distance to Hostal Dona Irma. It is regular house where the locals live downstairs renting few cramp upstairs rooms to the tourists. Share bath, fan only (necessary also during the night). No mosquitos! I got a single room for 25 $ per night. See the view from my window on the picture - that's how the poor people live here... Then in the evening I experienced a big surprise. There is a school just on the other side of the street. from 6 pm till 8 pm the band of the drummers had a rehearsal there making such a noise that I soon suffered headache. Do you know Caribbean drummers?
The island is beautiful with tropical flowers, palms, banana trees and peaceful people (except those drummers, of course). It seems that I got another island to my collection....


Oct 09, 2017 12:00 AM
Hot Panama City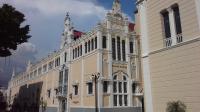 Panama City is full of contrasts. I took a walk to the old part of the town called Casco Viejo. Old, narrow streets are there full of police and soldiers so the tourists can feel safe, but on approach it is better to be alerted, keep your bag in front of you and try to avoid empty streets.
After some 20 years from my last visit Casco Viejo looks much nicer. They restored many colonial buildings. At the moment the cathedral is under refurbishment. I enjoyed especially Plaza Bolivar with San Francisco church and elegant Palacio Bolivar occupied by Foreign Affairs Ministry. National Theatre is also under renovation. But just nearby there are many historic buildings where only first floor is used and the upper part is in ruin. It is hard to understand that looking at the skyline of the new Panama City - one of the most impressive in America. In the late afternoon I will take domestic flight over the jungle to Bocas del Toro.


Oct 08, 2017 12:00 AM
Landing in Colon, Panama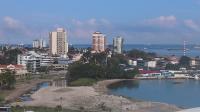 They wanted us to leave the cabins at 7 am... Not so nice... From the top deck of our ship I saw little town with the cathedral tower in the middle and huge halls of Duty Free zone on the left (closed on Sat and Sunday).
I left the ship at 9 am. Immigration formalities were suprisely quick (nobody asked for onward ticket) and the custom officer just collected signed by us delcaration forms. Welcome to hot and humid Panama!
Licensed taxi drivers were waiting in front of the terminal barrack. To get the cheaper but unlicensed you have to go left and follow long walk between two fences. Taxi to the bus station costs 5 USD per cab. It is not far but the Colon has vary bad reputation for street crime. Even through the taxi window it looks bad...
Regular bus to Albrok terminal in Panama city costs around 5 USD depending of a/c.... It is 100 kms distance, you will see canal from the bus in one point on the way.
I found without any problem my Stanford Hotel on Plaza 5 de Mayo. They charge 30 $ per single with bath and a/c. From the róom window on 5th floor I have great view of the city. It is time to adjust to the new environment :)


Oct 06, 2017 12:00 AM
Arrruba in the sun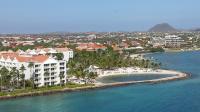 It was raining when at sunrise time we entered Aruba cruise port. But an hour later when we docked and the ship was opened the sun appeared... What to do in Aruba after 20 years from the first visit. I decided to share the taxi to the eastern side of the island and start the walk there enjoying the beauty of the nature. The taxi to Natural Bridge on the opposite side of the island costs 28 USD - they have approved price list.
The huge rock bridge formed by the sea on the rocky coast collapsed in 2005, but nearby there is still waiting similar, but smaller baby bridge. Nice place if the waves are high like today - you can observe blowholes... Then I took the walk up the arid hills with many cacti heading to Ary Rock Formation - like 1 hour walk... And onward to Casibari Rock Formation - both are worth to see and do not require a heavy climbing.


Oct 05, 2017 12:00 AM
Curacao in colors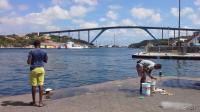 After day at sea we are docking now in Curacao - very close to the Southamerican Continent. Today it is windy, but also very hot and humid place.
I have been here some 20 years ago... Now we are docking at the new, outer pier in Otrabanda - To get to the old city from UNESCO World Heritage list I was forced to take a free ferry across the canal, because the folding bridge for walkers was open.
Yes, Willemstad has many nicely restored houses from Dutch colonial period. Curacao is like well painted box of chocolates. The main landmark is 56-m high car bridge over the canal. Once I was climbing there expecting the great view, but it is closed for walkers.
It is nice to refresh memories... tomorrow we will be in Aruba....


Oct 03, 2017 12:00 AM
St Kitts - not St Maarten!!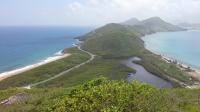 Well, surprise...
Due to the effects of the hurricane our ship changed the route.
Today, after 7 days in the ocean we reached the island of St Kitts on the Caribean.
Everything goes well - I have many new friends on board.
In the afternoon I took 2 hours walk to the Timothy Hill - south of the island capital. The paved road goes there but no sidewalks so be careful. The view from the top is great!
The internet price is killing, so be patient - more news soon! :)


Oct 01, 2017 12:00 AM
Days at sea...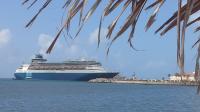 This is not a luxury ship, but for the backpacker it is not important...
Carpeting is dirty. During long sea days they offer very limited number of activities. For example live music starts at 6 pm.
Fortunatele I brought with me enough readings and other work....
The Atlantic Ocean is very calm...
I like my oldtimer ship anyway - it has the special atmosphere, the number of the passenges is limited to 1300 on this specific sailing...
Two more days at sea only...