You can lose everything, but nobody will take away what you saw and what you experienced...
............
Aug 16, 2018 12:00 AM
Bla Bla Car - to Kaliningrad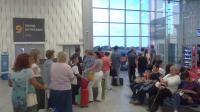 Kaliningrad airport, located 4 hours drive by bus from Gdansk is for me the ideal gateway when I travel east. Today my flight departs at 8 pm. No need to wake up early for 6 am bus!
I decided to try the private car booked by blablecar.com
The only problem is that the drivers announce the rides only 1-2 days in advance - so you must be patient to wait till the last minute... And of course there is a little risk.
I got a seat on the car departing from Gdansk at 2 pm. It will cost me 32 zlotys (the bus is 42, ang goes much slower). Let's hope that the Russian driver will be on time! :)
Posted later: The driver arrived with 55 min delay. As a result we were forced to go through afternoon' traffic congestions... We reached the border at 5.30 pm.
The situation became dramatic... Driver decided to go with me directly to Kaliningrad airport. I was there 10 minutes before closing the gate. Uff!
Flight to Moscow Sheremetyevo took us less than an hour...


Aug 15, 2018 12:00 AM
New journey - Volga River awaits me...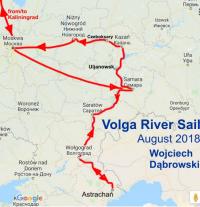 New travel to the the East! During my expeditions to seven continents, I was sailing the largest rivers in the world; The Amazon, Congo, Ganges, Nile, Yukon, and in the huge Russia -the great rivers of Siberia flowing north: Lena, Yenisej and Ob with Irtysh. I always wanted to see the Volga as well - the river so important for Russian history and culture. And now, after a few months of preparation, I am going to embark the old river boat and to sail all the way to Astrakhan at the mouth of the Volga to the Caspian Sea. On the way I will see Nizhny Novgorod, Samara, Saratov, Volgograd and other historic cities. I hope that traveling alone I will meet many cordial and friendly Russians. I will share the cabin with the unknown Russian. A new adventure awaits me...
==========================
==========================


Aug 04, 2018 12:00 AM
On the air...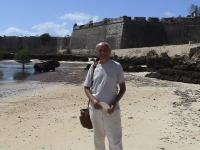 Today I was invited once again to Radio Gdansk to have a live talk about my last voyage to East Tibet. But we were talking also about other countries, other mountains than Himalaya, about other continents...
- It is very rare case that we have in our studio the traveller who can on the interesting way answer the question about any country of the world! says charming Ms Beata - radio jounalist who ivited me to our broadcasting station. That's because I visited all countries of the world plus a boundle of colonies, dependent territories etc...
There were a feedback from the listeners. They wan me there again. The problem is that my time is limited and they pay nothing for such a production. But maybe...
It is me in the Mozambique on the picture. Who else was in remote Mozambique?


Aug 03, 2018 12:00 AM
Hosting Orest in Wojtkówka...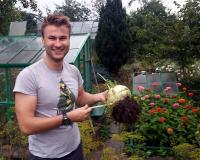 It must be destiny: I met Orest in Lviv, Ukraine just to discover that we are both booked independently for the old, second-hand ship "Monarch" sailing in November 2017 to Panama. Now I had a pleasure to host him in my cottage during the meeting of the Greatest Polish Travellers - he was the initiator of this meeting... And I was surprised to hear during our discussion that both of us we are booked again - for the ship "Sovereign" sailing in November 2018 to Brazil. What a coincidence!
Thank you Orest for your visit nad your help in the garden! See you aboard "Sovereign"!


Aug 02, 2018 12:00 AM
Slawek Muturi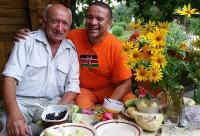 Half-Polish, half-Kenyan this businessman and traveller lives now in Warsaw. I met him for the first time in my Wojtkówka and we had good time talking about the world and travelling. On the next day he was departing to Greenland.
I hope to see him again...


Aug 01, 2018 12:00 AM
Traveller's Summit in Wojtkówka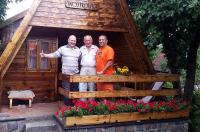 Young and enterprising Ukrainian traveller Mr Orest Zub invented, that there should be a meeting of the three top Polish travellers. According to him there are only three Polish globertotters, who visited all countries of the world (members of the UN-it was a criterion): Mr Slawek Muturi. Mr Mariusz Majewski and... me.
My "Wojtkówka" was accepted by all of them as a meeting place. We met today - drinking, eating fresh fruits and vegetables picked in my garden, talking about the world and about travelling. There were also a champagne toast for the First Polish Summit and for the future travels.


Jul 19, 2018 12:00 AM
Chopin on Motlawa River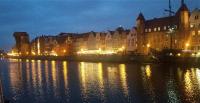 Little river of Motlawa is crossing Gdansk's old town. On the bank of the river once there was the power station. In the 90-ties the building of the station was converted into the elegant philharmonic hall. Every year in July each evening there is a concert of the piano music. The solists play mostly the music of Frederic Chopin.
Yesterday I enjoyed again the concert performed in the unusual scenery by young pianist Anrzej Wiercinski. My fredds Ela & Jacek joined me and we had unforgettable evening... See the evening view of Motlawa...


Jul 18, 2018 12:00 AM
Travellers in Wojtkówka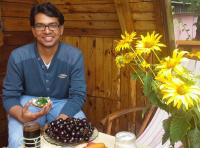 It is the peak tourist season in Gdansk and I am receiving quite a lot travellers from all over the world. Few days ago I hosted a young lady from Kamchatka. Last visitor was Mr Kaleesh from India. Kaleesh is a young engineer, working as a researcher for international companies. He is very knowledgeable, inteligent and social person so during his visit we found many interesting topics to talk about. Originaly he is from Chennai (former Madras) in India, so he was also interesting source of information about his home country. He is a vegetarian so he enjoyed my simple food, fresh fruits and berries :)


Jul 16, 2018 12:00 AM
Giving lectures in Warsaw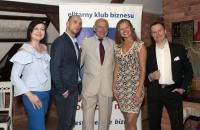 I was forced to leave my blooming Wojtkowka for the short time and go to Warsaw, invited by the Businessmen's Travellers Club to give a lectures and slide-shows about my travelling to the seven continents. It was also good opportunity to offer to the audience my book. Everybody was happy - me too, because I gain extra money for my next voyage :)


Jun 19, 2018 12:00 AM
In Kaliningrad again...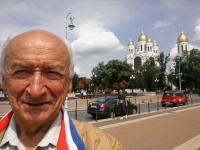 It is only 4 hours by bus from Gdansk. I came here to arrange my next voyage to Russia. Because in Russia it is not possible to arrange everything online :) I have nice weather, local ladies are worth to enjoy and the things go well...
Kaliningrad is hosting FIFA World Cup - the city is nicely decorated, there are volunteers on the squares and imposing fan zone. But the holes in the streets and sidewalks remained :) It is also very difficult to find a public toilets.