Augustine
Username:
augi69
Hometown:
,
Languages:

English

Gender:

male

Age:

31-35 years

Interests:
Swimming, Romance, Reading, Music, History, Camping, Backpacking, Travel,


Comment:
HOpe to have a wonderful time sharing travel pictures of the middle east with all
Signature:
A.Mathias



Displaying last 2 events.

Saturday, January 7 2006

augi69 uploaded a new profile picture.


Friday, May 28 2004

augi69 joined GLOBOsapiens! Welcome!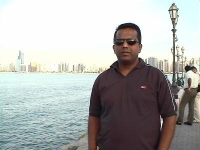 Visitors: 3,533
Member since: May 28th, 2004
Was online: Over a month ago



Activity index: 6%




No group memberships so far