Ahmed
Username:
bally84
Hometown:
,
Languages:

English

Gender:

male

Age:

21-25 years

Interests:
Computer, Dancing, Golf, Movies, Photography, Romance, Travel,


Comment:
Hey! I'm a 20 year old male living in dubai, going to college. I'm a hybrid between two countries.. try and guess what? hmm.. Love to go out, Travel quite a lot..



Displaying last 2 events.

Tuesday, March 2 2004

bally84 uploaded a new profile picture.


bally84 joined GLOBOsapiens! Welcome!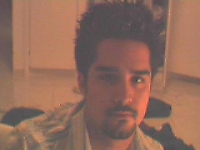 Visitors: 3,670
Member since: Mar 2th, 2004
Was online: Over a month ago



Activity index: 6%




No group memberships so far