Kiran
Username:
kkannappan
Hometown:
,
Languages:

English

,

English

,

English

Gender:

male

Age:

31-35 years

Interests:
Art, Camping, Cooking, Hiking, History, Movies, Music, Photography, Reading, Swimming, Theatre, Travel,


Comment:
Attempting to get to know the planet I live in. Enjoy Relax Learn...
Signature:
Ciao ! KK



Displaying last 2 events.

Wednesday, October 20 2004

kkannappan uploaded a new profile picture.


Tuesday, October 19 2004

kkannappan joined GLOBOsapiens! Welcome!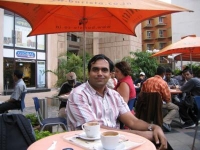 Visitors: 9,189
Member since: Oct 19th, 2004
Was online: Over a month ago



Activity index: 6%




No group memberships so far