Pankaj Domadia
Username:
mumbaidate
Hometown:
,
Languages:

English

,

English

Gender:

male

Age:

41-45 years

Interests:
Travel, Swimming, Sports, Romance, Reading, Photography, Fishing, Dancing, Camping,


Comment:
Hope you are enjoying holiday in Mumbai. I can be your couch/guide/companio-n while you are in Mumbai & meet also for cup of tea/coffee or drink. Do get in touch if you require anything during your stay here..Pankaj pankajdom@gmail.com 919820299360



Displaying last 6 events.

Wednesday, April 27 2011

New posting in "Europe":


Joined the group


New posting in "Pen Pals":


Joined the group


Pankaj Domadia uploaded a new profile picture.


Pankaj Domadia joined GLOBOsapiens! Welcome!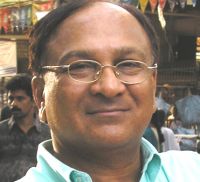 Visitors: 3,383
Member since: Apr 27th, 2011
Was online: Over a month ago



Activity index: 6%