Lana
Username:
naturelover
Hometown:
,
Languages:

English

,

German

Gender:

female

Age:

26-30 years

Interests:
Travel, Swimming, Photography, Movies, Hiking, Fishing, Dancing, Cooking, Camping,


Comment:
Always look on the bright side of things. Everything happens for a reason!
Signature:
Naturelover



Displaying last 4 events.

Thursday, October 13 2005

and naturelover are now friends.


Sunday, February 6 2005

naturelover uploaded a new profile picture.


naturelover wrote a message in .


naturelover joined GLOBOsapiens! Welcome!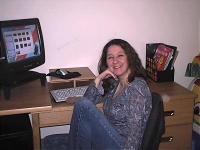 1 friends

Wakefield



Visitors: 2,907
Member since: Feb 6th, 2005
Was online: Over a month ago



Activity index: 6%




No group memberships so far