sanjay
Username:
santots29
Hometown:
,
Languages:

English

,

Hindi

Gender:

male

Age:

31-35 years

Interests:
Camping, Golf, Hiking, Music, Sports, Travel,


Comment:
enjoy while you can .life is not counted by the number of times you take breaths but the number of times it takes your bresth away.
Signature:
sssiiittt



Displaying last 3 events.

Tuesday, October 19 2004

and santots29 are now friends.


Saturday, October 16 2004

santots29 joined GLOBOsapiens! Welcome!


santots29 uploaded a new profile picture.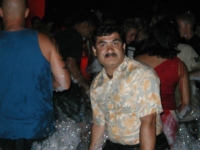 1 friends

Carnbee Vil.



Visitors: 4,586
Member since: Oct 16th, 2004
Was online: Over a month ago



Activity index: 6%




No group memberships so far