stephen LIU
Username:
stephenliu
Hometown:
,
Languages:

Chinese

,

English

Gender:

male

Age:

36-40 years

Interests:
Backpacking, Computer, Cooking, Fishing, Movies, Music, Travel,


Comment:
i come here is to make more friends too, and as i have more than 10 years experience in travel industry, i am glad to help anybody who wants to come to china, for example, i can find the much lower rate of the same hotel as you booked,



Displaying last 2 events.

Sunday, April 3 2011

stephen LIU uploaded a new profile picture.


stephen LIU joined GLOBOsapiens! Welcome!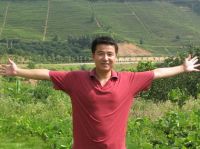 Visitors: 1,285
Member since: Apr 4th, 2011
Was online: Over a month ago



Activity index: 6%




No group memberships so far