Suzanne
Username:
suztours
Hometown:
,
Languages:

English

Gender:

female

Age:

51-55 years

Interests:
Travel, Theatre, Swimming, Reading, Photography, Music, History, Golf, Cooking, Camping, Art, Acting,


Comment:
"Some luck lies in not getting with you thought you wanted but getting what you have which once you've got it you might be smart enough to see is what you would have wanted had you known." - Garrison Keillor
Signature:
"Everyday... an adventure!" suzanne pomeranz, tourism consultant jerusalem, israel suztours@gmail.com *check out my tourism blog at http://suztours.easy-journal.com



Displaying last 4 events.

Monday, January 16 2006

suztours uploaded a new profile picture.


Thursday, September 15 2005

suztours wrote a message in .


Sunday, February 27 2005

and suztours are now friends.


Saturday, February 26 2005

suztours joined GLOBOsapiens! Welcome!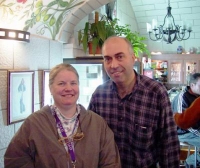 1 friends

Saint Judes



Visitors: 2,963
Member since: Feb 26th, 2005
Was online: Over a month ago



Activity index: 6%




No group memberships so far