Tarik
Username:
tetodiver
Hometown:
,
Languages:

English

,

Arabic

,

French

Gender:

male

Age:

36-40 years

Interests:
Sports,


Comment:
Hi Tarik, HAPPY NEW YEAR TO ALL!!!! We wanted to thank you again for everething. It was great to be back again and I wish I was still there.
Signature:
Tarik A.Fatah Penguin Divers P.O.Box 13 Dahab,South Sinai,Egypt Tel/Fax:0020(0)69 640117 SMS/0020(0) 12 350 8736 www.penguindivers.co--m



Displaying last 2 events.

Thursday, January 1 2004

tetodiver uploaded a new profile picture.


tetodiver joined GLOBOsapiens! Welcome!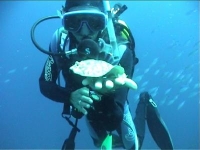 Visitors: 4,099
Member since: Jan 1th, 2004
Was online: Over a month ago



Activity index: 6%




No group memberships so far