tobias weih
Username:
tobi_81
Hometown:
,
Languages:

English

,

German

,

Spanish

Gender:

male

Age:

26-30 years

Interests:
Backpacking, Dancing, Travel,


Comment:
I am an easy going person, open towards the world wiht a positive energy. Hope to find someone to join me during my travel! Tobi



Displaying last 3 events.

Sunday, February 17 2008

tobias weih uploaded a new profile picture.


New posting in "Travel Partners":


tobias weih joined GLOBOsapiens! Welcome!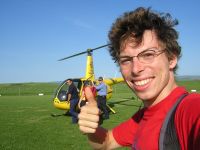 Visitors: 1,840
Member since: Feb 17th, 2008
Was online: Over a month ago



Activity index: 6%