There are no great things, only small things with great love.




Dec 13, 2007 09:00 PM

Unexpected Hyderabad Visit

Got same day flight tickets in the afternoon for the late night flight to Hyderabad. Probably the most unplanned, yet most enjoyable trip we had.

Flights were delayed and the departure was delayed by 12 hours..we left bangalore at 6AM on 15th instead of teh scheduled 10:30 PM on 14th.

2 round trips to the airport that night was a bit tiring, the only good part was meeting with a friend at the airport after 6 years.

Thanks to the company of friends- that we met after several years and the little ones had a wonderful time at the hotel, friend's home, snow world, ntr park.

The most memorable part of the trip was my visit to the Charminar and shopping around there.

Pictures will be posted soon






Sep 05, 2007 06:00 PM

Bangalore-Madurai-Kanyakumari-Ramaeswaram

Leaving bangalore on 5th sept for an extended weekend/family wedding - this will be my first trip to the southern tip of India.

Suggestions welcome.


Jul 04, 2007 06:00 PM
Temple hopping at malleswaram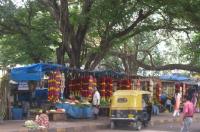 Left from home around 10 AM and decided to just go around trying to cover most of the temples around my favourite place in the city. Starting with the Mariamman temple (18th cross), offered my prayers and got a sumptuos prasad - sweet pongal, very filling for a breakfast and went around to the Rama temple near 10 cross, a ganesha temple and teh banashankari devi temple at 9th cross, a satyanarayana temple at 8th cross, concluded with the darshan of Sai at the Shirdi Baba temple at 15th cross....and back home.






Jul 02, 2007 06:00 PM

Its MY week

I hardly remember when I took time off for myself last... been ages I must say.. but I'm glad I decided to take time off from work, a break from hectic schedules at last and no real travel plans as such.. just getting rested and introspection. Ain't it fun to be able to get an extra hour of sleep, an afternoon nap and just be able to notice everything around!

Minding my days on my travel log :-)






Jul 02, 2007 06:00 PM

Traffic in the city

While I eagerly wait at the corner of a crowded street for the arrival of the school bus, there are so many things that amuse me everyday.

new BEL road - rental rates are Rs 100 per sq ft per month and vehicles that pass the busy mayuri junction (no traffic signal) over 75per minute, averaging 1.5 honks per vehicle, angry horns, attention seeking small ones, blaring loud ones that try to coax a busy sms typist in the middle of the road to speed up her footsteps. A couple of apparent foreigners on a 2 wheeler - man.. they were almost run over.

The silent traffic police sits in the corner in his not so cozy, but rain proof shed, merely a mute spectator. I think he's afraid of being run over by angry drivers and decided to only report mishaps and not prevent them. A perfect follower of Bollywood movies in which the cops show up at the end of everything.

Welcome to yet another day on just another busy street in Bangalore. Watch out and be alert!






Jun 22, 2007 06:00 PM

An eventful day

A cold morning in Bangalore- the onset of rains makes the weather pleasant and a little chilly. Jackets are out and we leave home at 9AM for our kids KG school formality. Cramped streets and honking are even tolerable, but what really puts me off is men using roadsides for relieving themselves- Yucky- and one really annoying thing in every part of India.

After a couple of hours we returned for our regular grocery shopping at Big Bazaar- the WalMart equivalent in India.

A surprise visit from a cousin in Delhi and a small family get together with lunch. Easy to order food- delivered at home and a fun time with a LOT of kids.

Follwed by a visit to ITC infotechpak for a college re-unioun, at 7 PM. Old, famliar, college faces, memories of hostel days from almost 10 years back, we had lost touch but the warmth, love and closeness wasn't lost.

Another beautiful day wound up at 11 PM, with lots of fond memories that I decided to type out here.


Jun 15, 2007 06:00 PM
Weekend trip to Puttaparthi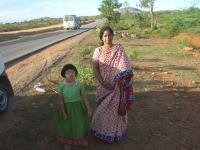 The three hour drive to Puttaparthi (from Bangalore) was an adventurous one - we were just a few feet short of flying into a 50 feet pit dug in the middle of the highway in Bangalore (north). There's no signs indicating any construction work. I guess it is just assumed that anybody who travels at night would have been through the road before. (Strange and dangerous)

A punctured tyre, right after we almost thought we got over the above episode.

Finally our trip was well rewarded wth some nice Darshan and Bhajans at the temple.

By Gods Grace we had a nice time and a safe return.


Jan 14, 2007 09:00 PM
Pongal/Sankranti - the harvest festival in India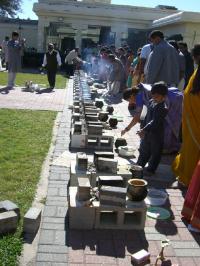 Today, tomorrow & the day after are big festive days in India. Its Bogi today - where people prepare for the big day tomorrow by decorating their houses, getting harvested sugarcane and rice.

Tomorrow- is a festive cooking of the freshly harvested rice in earthen pots, family gatherings and lots to eat :-)

The third day is for the animals - the cattle that helped through the harvest are decorated, prayed to and fed royally.

Picture from the annual pongal celebrations in USA(Houston) last year.


Dec 21, 2006 09:00 PM
Mysore trip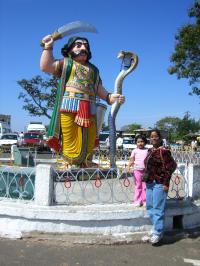 We left from Bangalore on 23rd morning and visited Mysore, Ranganathitu and SreeRangapatna and returned to Bangalore on 25th evening.






Oct 23, 2006 06:00 PM

Delhi 24th - 27th Oct

I was at Delhi after 8 years. It was fun redoing the Delhi tour. This time it was a Taxi and not a tourist bus (like the one I did 8 yrs back)
I enjoyed the Akshardham temple in particular.