Hi Everyone! Most of my trips are short because I travel for work & try to spend an extra day or two wherever I go.... I have only been to: Abacos, Caymans, Cancun & Tijuana MX, England, Hungary & about 40 states in the US.




Mar 30, 2005 06:00 PM

Smoky Mountains National Park TN

I drove into the Park and headed towards Cherokee to hike & see Rainbow Falls (the largest in the park). The hike is really not a hike really but more like a climb up very steep steps. The falls were running great.


Mar 29, 2005 06:00 PM
Gatlinburg, TN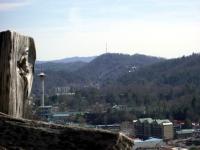 I flew into Knoxville, TN and took a car down to Gatlinburg via 441. I passed a place called "UFO" which claims to sell you Unclaimed Freight from all the airlines! Unfortunately they were closed so I missed the chance to be reunited with one of my long lost pieces of luggage ! Pretty much wherever you stay in Gatlinburg puts you in walking distance to shops & restaurants. If you stay outside in Sevierville or Pigeon Forge (which looks like Orlando #2) - you can park FREE at the visitors center to the Great Smoky Mtns National park and they will shuttle you for FREE into Gatlinburg.






Mar 09, 2005 09:00 PM

Free Cocktails & a Flashlight

Midnite...somewhere over Atlanta GA on Delta- I found myself in seat 24E with no lights, my unknown travel partner in 24D was in the same predicament - He waved down the stewardess to find there were no lights working in our row - a dash was made to find a light source so both of us could continue to read our novels we had been into before the lights went out after takeoff - ONE flashlight later he was back to his novel...now Delta was kind enough to offer complimentary drinks for both of us from the 1st class cabin - Scotch for him - One HUGE cup of Wine for me - now there really was no reason to read, the wine put me right into a sleepy mood - and he had a great buzz of only having pretzels for dinner -after saying "cheers" we both wondered if it was Delta's policy to subdue the passengers with alcohol to make them "happy campers"...well it made for Just another interesting flight...good thing the flight went well - As both of us were sitting in the EXIT row! I'd probably have opened the door and tripped out the airplane ...noone would see the exit since the lights didn't work at the door OR they would be blinded by the superbright light that could double as a landing gear light my partner was holding....but hey there was no emergency and we got free cocktails and a flashlight!!


Mar 05, 2005 09:00 PM
Lakeland Linder Airport - FLA JETS 2005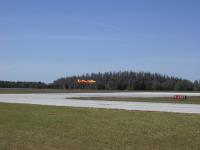 Jet Model plane enthusiasts from around the world brought their toys to Linder Field (near Orlando) the past couple of days. Russian, Chinese & Canadian replicas flown by those from Puerto Rico to South Africa. At the end of April there will be a Top Gun show which will have jet and electric models flying. - A replica like this one in the pic can weigh up to 25-50lbs and hit speeds of 200mph. My favorite pilot continues to be Dave Shulman!


Mar 05, 2005 09:00 PM
One more from Jets 2005- Jack from Caracas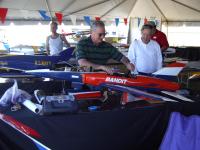 Jack Diaz, the engineer from Caracas, Venezuela packing up -he told me the airlines were strict on him & his son Gerardo - even after removing all combustible smells and liquids everything still has to ship freight - at models costing up to $20K I'd be a little nervous myself not being able to carry on any parts.


Jan 25, 2005 09:00 PM
Take Me to the Top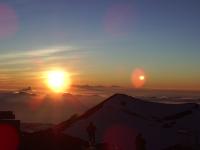 Mauna Kea Summit on the Big Island of HI- you know when you look outside your plane window and you are looking down at the clouds - well that is what being at the summit is like - stepping out of the plane and onto to the wing where it is very cold and windy and looking down at clouds - you almost want to walk onto to them ! It is a spectacular sunset as the sun "sets" into the clouds. Just make you sure you acclimate at the 9200ft spot before & don't eat anything gassy because it will come out at 9200ft...also you HAVE to stop back by the 9200ft pit stop after the sun sets to enjoy some of the local astronomers who set their scopes to show you some awesome sites!


Jan 14, 2005 09:00 PM
Suz vs the Volcano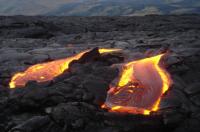 The BIG Island of Hawaii - what an amazing piece of land. For the US there are not many spots where you can lay on the beach in the AM & ski later that night (maybe SanDiego) - I spent 8 days on the island and saw maybe 40-50% of what is has to offer - hiking lava tubes, hiking on old lava to see hot new molten lava, whale watching, swimming with Manta Rays - and amazing star gazing at the Mauna Kea summit which is 4400 +/- feet higher than Mt Everest! Here is a snap of new real estate that Pele was providing on my trip.


May 31, 2004 06:00 PM
Petroglyphs and Dirt Roads in New Mexico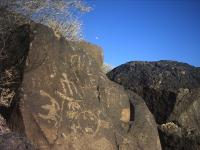 I landed at the airport & drove straight to Sandia Tramway (which was closed) so I headed on over to the Petroglyph National monument & took the Mesa Point trail which climbs to the top of the lava flow. You will not believe the petroglyphs after petroglyphs that you see along the path. It is not a tough hike (graduated) but some steps require good having good shoes and are giant (requiring some exertion). Coming from Fla the altitude adjustment had me taking some breaths of nice deep clean air. I was a little disappointed when I hiked to the top to see that a subdivision was being built right up to this monument mountain. While it would be neat to live there and hike this path everyday - I wonder what the pollution of the houses might do to the rocks. Being in a time crunch I ran the mountain but please enjoy some of the shots I captured. On my last day of work I left ABQ heading towards Sante Fe. I drove off a dirt road not on the map heading towards a point between Golden & Madrid. I felt like the only person on this road & the only person on the planet...the drive was a unique escape. When the sun set I stopped the car & sat on the hood watching it dip into the mountains. The colors were so different than my Fla sunsets..there were purples and yellow golds and magenta.. I then headed towards Golden when I hit US14 and headed around the Sandia Mtns back towards ABQ. It was a winding wooded drive, the beauty of snow of the peaks of the Sandia Crest in the distance. I can't wait to go back and explore more of New Mexico!