Jake
Username:
youngun88
Hometown:
,
Languages:

English

,

Spanish

Gender:

male

Age:

16-20 years

Interests:
Art, Backpacking, Biking, Cooking, Dancing, Hiking, History, Movies, Music, Photography, Reading, Romance, Snowboarding, Sports, Swimming, Travel,


Comment:
"So on and on I go, the seconds tick the time out, there is so much left to know and I'm on the road to find out"- Cat Stevens
Signature:
Start young, go big!



Displaying last 3 events.

Friday, April 13 2007

and youngun88 are now friends.


Sunday, April 1 2007

youngun88 joined GLOBOsapiens! Welcome!


youngun88 uploaded a new profile picture.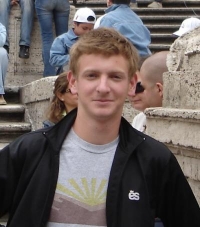 1 friends

Munich



Visitors: 2,843
Member since: Apr 2th, 2007
Was online: Over a month ago



Activity index: 6%




No group memberships so far