Julia
Username:
julchen
Hometown:
,
Languages:

German

,

English

,

French

Gender:

female

Age:

21-25 years

Interests:
Travel, Sports, Running, Photography, Movies, Dancing, Computer, Biking, Backpacking,


Comment:
it's not enough to see the flowers - i want to smell them!
Signature:
[ julchen ]



Displaying last 2 events.

Friday, June 13 2003

julchen uploaded a new profile picture.


julchen joined GLOBOsapiens! Welcome!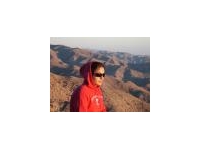 Visitors: 3,541
Member since: Jun 13th, 2003
Was online: Over a month ago



Activity index: 6%




No group memberships so far