Dale
Username:
moore-sherin
Hometown:
,
Languages:

English

,

French

Gender:

female

Age:

51-55 years

Interests:
Backpacking, Computer, Hiking, Music, Skiing, Swimming, Theatre, Travel,


Comment:
This process is quite long - Am looking for a teaching position teaching english - have diploma and extensive experience.
Signature:
Dale Sherin



Displaying last 2 events.

Wednesday, August 4 2004

moore-sherin uploaded a new profile picture.


moore-sherin joined GLOBOsapiens! Welcome!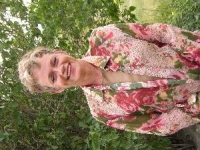 Visitors: 2,813
Member since: Aug 4th, 2004
Was online: Over a month ago



Activity index: 6%




No group memberships so far