Beautiful place where you may spend a week or more in Tuscany. Great location, wonderful guesthouse surrounded by a fabulous orchard and mountains. Restaurant and pool available on the property
We spent a delightful two weeks in an agriturismo in Alberoro, in the Val di Chiana area of Tuscany, Italy in June '04. It is a 20-minute ride from Arezzo and is located midway between Florence and Siena with easy access to the A1 autostrada. The Foresteria Il Giardino di Fontarronco ( phone 011-039-0575-846044, fax 011-039-0575-846045, e-mail info@foresteria.it or visit www.foresteria.it ) i san 18th-century villa that has been lovingly restored and furnished by the proprietor Francesco Illuminati. The Illuminati family owns the farm on which La Foresteria is located as well as other farms, vineyard and olive groves in the area. Francesco is on site mornings and afternoons to give advice on nearby hill towns to visit, to make reservation at local restaurants, to give any other assistance needed or just to chat. He is most personable and knowledgeable and speaks fluent English, having done his graduate studies at Cambridge University. There are 10 apartments of various sizes and configurations located in either the manor house or various outbuildings. All have views of the adjoining fruit orchards and mountains beyond. Each has modern bath, patio, satellite TV and Internet-accessible telephone. Our one bedroom apartment, which slept three, cost € 700 ($ 800) per week. In addition, there is a large, sparkling pool on the grounds. Twice a week, an outstanding 4 course gourmet dinner is offered to guests of the Foresteria at a cost of € 30 ($ 34) per person. These meals were among the finest we have ever had anywhere! We fully intend to return on a future visit and wouldn't hesitate to recommend it.
Favourite spots:
The location is perfect to discover Tuscany and oll central Italy. Easy access to A1 autostrada and railway (arezzo)
What's really great:
The hosts at the villa were incredibly nice and helpful, and did all they could to make our stay as memorable as possible
Sights:
Cortona, Lucignano, Monte Sna Savino, Foiano della Chiana, Civitella
Accommodations:
Foresteria Il Giardino di Fontarronco
loc. Chiana 255
52048 Alberoro (Arezzo) - Tuscany
phone +39 0575 846 044
fax +39 0575 846 045
info@foresteria.it
www.foresteria.it
Restaurants:
restaurant at Foresteria......

Ristorante Mengrello (Foiano della Chiana)
Ristornate Muzzicone (Castiglion Fiorentino)
Osteria del Teatro (Cortona)
Pizzeria L'Orologio (Civitella)
Published on Tuesday August 31th, 2004




Publish on Facebook
Tue, Aug 31 2004 - 06:33 AM

by
ravinderkumarsi
nice to read ur report Mike,
ravi
Information:
Login if you are a member, or sign up for a free membership to rate this report and to earn globo points!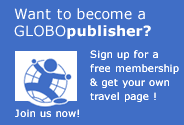 Como

- murrayskinner