This is a nice city to visit when you have a day or two. Beautiful old buildings and very lively people. Large Japanese minority. Dusseldorf is easily accessed by air, train or bus and is just around the corner from Cologne.
Favourite spots:
Zeil (city centre), the Rhine vicinity. Ask Dusseldorfers for more, they are very friendly people.
What's really great:
Openness of the people. Good museums. Japanese food. Alt beer
Hangouts:
Anything along the Zeil; check with young people for latest clubs
Restaurants:
Try Japanese places and traditional German
Published on Tuesday June 3th, 2003




Publish on Facebook
Sat, Aug 04 2007 - 01:37 PM

by
adampl
From my experience I know there are plenty cities in Germany worth a day or two, provided you use this time wisely. More details about the museums and historic monuments as well as accommodation would come in handy.
Fri, Jun 04 2004 - 11:29 AM

by mikeygee91
explain more! this article is very short, and maybe something historical should be located in this article...

short: too short, and needs history!
Information:
Login if you are a member, or sign up for a free membership to rate this report and to earn globo points!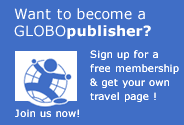 Jena

- sanne_downunder