BE ALERT--- A permission from police office if you are NOT Chinese and would like to go to DunHuang, GanSu from Golmud, QingHai province. So far, I don't know if we need to pay for the fee to police office or not as it's Saturday and office is closed...
This morning, we got up very early and tried to catch a morning bus from Golmud to DunHuang; unluckily, lady from ticket office refused to sell the tickets to us as foreingers need a permission from police office to go to DunHuang from Golmud. So we missed the bus and have to stay here 2 more nights and get it by Monday if everything goes well...
Favourite spots:
SiChuan - ChengDu (good food though my stomach was upset by the time I was there) GanSu - Lamgmusi (awesome 3-day horse trekking in grassland)
What's really great:
natural scenery, fresh air, good food and reasonable accomdations
Accommodations:
small town and not much activities here but people are fairly friendly
Hangouts:
haven't been one of them
Restaurants:
mostly muslim meals
Published on Saturday August 27th, 2005




Publish on Facebook
Sat, Aug 27 2005 - 08:07 AM

by
rangutan
when traveling do that what is law and custom in that country, patience and tollerance is usually needed... laws and regulations are fixed. There is seldom a special allowance or tolerance for aliens or backpackers!!!
Information:
Login if you are a member, or sign up for a free membership to rate this report and to earn globo points!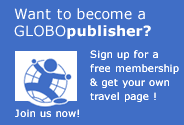 Qufu

- sumantbarooah