HATYAI located in southen thailand inside songkla province. although hatyai is small city, hatyai have everything like bangkok. so many people say that hatyai, as`small bangkok`.
every weekend a lot of malaysian and singaporean come to hatyai. almost of them enjoy shopping and nightlife in hatyai. good shopping malls. good discoteque, good pub located all around hatyai.
Favourite spots:
i enjoyed swimming in samila beach that located about 20km away from hatyai downtown. long beach and clean water make me take off my shirt and jumping to the sea.
What's really great:
it's little difficult to travel or move in day time. because of very hot weather(more than 30 dgree celcius) so i usually go out at night. i visited good live cafe. you can enjoy good live music and cool beer.
Accommodations:
i strongly recomend you B.P GRAND hotel. this hotel located in downtown.
have a good facilities and celan inside.
price: 1300 thai baht(about 35usd)
Hangouts:
KISS CHANNEL PUB. there are a lot of kind staffs, good live music. and attractive dancers.
Published on Thursday November 18th, 2004




Publish on Facebook
Information:
Login if you are a member, or sign up for a free membership to rate this report and to earn globo points!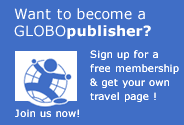 Pai

- kindberg37