Growing up I was a telly box junkie and enjoyed programmes like Streets of San Francisco and Three's Company. The latter sparked my desire to visit San Francisco.
Sunset on the Golden Gate Bridge

I remember the opening credits of Three's Company, with the trams going up the hills, the characteristic shot of the bridge and the sea lions on the Pier, etc. For me growing up in London where you only see animals at a zoo, I thought this was a phenomenon.

San Francisco sits on the world's largest natural harbour; moving inland it is very hilly, as it is situated on a fault line, which makes it quite steep and prone to earthquakes. As little as 1989 they suffered a major earthquake, which resulted in many deaths and destruction to property. As well as a major multi-storey highway (in Oakland) collapsed flattening many vehicles. But it's funny when you visit a city you tend to ignore the negative points and when I was there not one person mentioned it, so I suppose it's 'out of sight out of mind'.

This was the first American city that I visited, where I found the people to be extremely friendly. They seemed to genuinely be interested in how you are doing, and actually waited for a response; I mean the people walking their dogs along the Bay, the trams drivers, just everyone.
Favourite spots:
Pier 39 is a really nice place to spend the day, there is always loads of people around and it has a great atmosphere. There are many shops and restaurants; with carnival rides to keep young children happy.

When I actually saw the sea lions, I was flabbergasted with the quantity. I thought there would be one or two, but the amount was awe inspiring; my only regret was the noise. They screeched and screeched and screeched. But hey, that's what I came for. I heard on the news that they want to stop encouraging the sea lions on the Pier because they were becoming a nuisance. But what would San Fransciso be without them...

From this Pier you can also get a ferry over to the Rock - Alcatraz. I chose not to go across to the island, however with hindsight I wish I had, I just watched 'Escape from Alcatraz' staring Clint Eastwood and I know I missed something special. But at least I have a reason to return.
What's really great:
The Golden Gate from Marin County

It's fun seeing the Golden Gate Bridge; it stands so proudly over the Bay, glimmering in the sunshine, or piecing through the clouds.

I chose to walk along the bay, the route stretches for miles; it was refreshing and spent time talking to the locals, who were walking their dogs, jogging or cycling. I was completely taken aback by how friendly the were - genuinely interested. Like I said refreshing.

On reaching the Bridge, there is the Golden Gate National Recreational Area, which is pleasant to spend some time. It leads on to the Golden Gate Park which has a lovely Japanese Tea Garden, lakes and a few museums.

Walking over the bridges to Marin County was exhilarating, especially when I started to see the city's skyline unfold before me.

Of all the cities I've been to in the US, San Francisco is by far my favourite.
Sights:
There are so many things to do in San Francisco I've listed some of my favourites:

FISHERMAN'S WHARF – a hive of tourist activity with lots of seafood on offer
PIER 39 – (see above)
CHINATOWN – this is the largest Chinese community outside of Asia and some of the architecture is really wonderful
GOLDEN GATE BRIDGE and PARK
UNION SQUARE - for a rest bit from sightseeing to a bit of shopping; this area is quaint with lovely Victorian mansions, shops and cafes
CABLE CAR RIDE
ALCATRAZ ISLAND – go to the rock and experience prison life, there are also evening tours available and I've heard it's really scary.
Museums and galleries – CALIFORNIAN ACADEMY OF SCIENCE, ASIAN ART MUSEUM, CALIFORNIA PALACE OF THE LEGION, CHINESE HISTORICAL SOCIETY OF AMERICAN
COIT TOWER in the centre of NORTH BEACH, this is an impressive tower provides wonderful panoramic view of the city
LOMBARD STREET – located in the Russian Hill district, the crookest street in the world.

Accommodations:
Hotels in San Francisco are fab; there awesome 5 stars, world renowned even, but I ended on in an economy hotels.

I arrived in the city without a reservation on the busiest weekend on their calendar - the Chinese New Year. I wouldn't suggest to any one doing this.

However if you find yourself in this position, try Van Ness Avenue. There are lots of low budget accommodation available, including Best Western, Comfort Inn and Best Inn where I stayed; as I was travelling alone for the first time, I felt more at ease with a name I knew. It was also one of the few hotels which had parking available.
Restaurants:
For lunch there are so many restaurants to chose from; whilst I was on Pier 39 it wasn't surprising that most of them sold seafood. However, I did find a few Itailian restaurants dotted around as well.

I chose the Crab House. Located upstairs on the Pier, Fishermans Wharf (tel: 415 434 2722, www.crabhouse39.com). It was a lovely family restaurant and I found it wasn't too dissimilar to 'TGI Friday'. They serve a wonderful seafood platter, with everything you could imagine, which was great for sharing. I had a window seat, it really nice to sit and gaze out over the bay.

Also towards to other end of Fisherman's wharf there are an abundance of stalls selling fresh crabs; I was in heaven as this is my favourite dish, prepared in any way.
Other recommendations:
My destination was to walk across the Golden Gate Bridge; everyone was doing the same thing and it's only about a 20 minute walk, to Marin County.

My guidebook described Saussalito, the first town over the bridge, as once a fishing village now laced with 'tacky tourist shops'. So half way across I changed my mind and went back downtown.

However, I read some nice reports about the area, check out picasso's contribution.

http://www.globosapiens.net/travel-infor---mation/Sausalito-1551.html.

Failing that, there is always a drive down Highway 1, the coastal road which runs from from Oregon all the way down through California and head on to Los Angeles or San Diego.
Published on Wednesday February 15th, 2006




Publish on Facebook
Sat, Oct 21 2006 - 01:59 PM

by
picasso
Hello,Amanda
Finally i had a time to read your very nice and interesting report on the city,where i live for the last 29 years.You have done a great job!!!!!!!!!!!!!
Thank you very much,for visiting one of the most wonderful cityes on earth.

My best wishes to you,my dear friend!!!!!!!!!!!
Wed, Feb 22 2006 - 01:02 AM

by eirekay
Misty - Great report on one of my favorite places! The Museums are wonderful - the Exploratorium is my favorite!
Fri, Feb 17 2006 - 11:36 AM

by magsalex
A great report, nicely written and very informative.
Thu, Feb 16 2006 - 12:21 PM

by bear495
Amanda,

Thank you for another thorough and interesting report. You always make such a positive contribution to Globo. I am happy to have your acquaintance.

Russ

Thu, Feb 16 2006 - 10:03 AM

by davidx
Again you have managed to introduce some interesting and different personal elements in a report on a well publicised city. Thanks.
Thu, Feb 16 2006 - 02:15 AM

by frenchfrog
Well, I can see I am not the only telly fan as well, good report of "The Streets of San Francisco"! Well done.
Thu, Feb 16 2006 - 02:10 AM

by ravinderkumarsi
Information:
Login if you are a member, or sign up for a free membership to rate this report and to earn globo points!
Argentina

Australia

Austria

Belgium

Bolivia

Bosnia - Herzegovina

Botswana

Brazil

Cambodia

Canada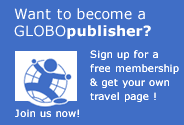 Maui

- murrayskinner