More than 30 years I have been traveling across four continents, searching for the last untouched natural areas in highest mountains (Himalaya, Caucasus, Rocky Mts., Tchien-Shan etc.) and/or in the high geographical altitudes far up from the Polar Circle.
I have spent long time and quite a lot of money to finance long journeys to my remote directions; however, few years ago I "discovered" magnificent and almost uninhabited plateaus of the Norwegian Heines, only two days by car from my home in the Czech Republic. Since then I keep visiting them again and again… Norwegian word "heiene" means "highland". So they are many Heines in the southern Norway's regions (Rogaland etc.) – e. g. Austheiene, Suldalsheiene, Frafjordheiene, Hjemelandsheiene, Ryfylkeheiene, Sirdalsheiene… First part of the word is the name of connected valleys, inhabited by farms and villages; however, between them you can find thousands of square miles of abandoned upland full of beautiful of rocky ridges, lakes, clean creeks and rivers, waterfalls, rapids and snowfields. Greater part of that landscape lies above the line of trees, offering peace and calm far from the "cultural areas". Only a couple of sheep and self-serviced wooden huts – in a distance of one or half day hike – are the only reminder of the human activities. Often you will be hiking in quite uninhabited areas, tenting on mountain fields, blossoming by the thousands of subarctic flowers. Another day, may be, you will meet not more than two or four hikers during all the day. And "white nights" in June/July bring you unforgettable atmosphere, resembling the "real Arctic". You can leave behind all your troubles connected with "the life in the civilization"…
Favourite spots:
And what do you need? About a week of spare time to cross one of these areas, outdoor equipment, maps (!) and a normal physical conditions… Trekking in Heienes is not too demanding – and you can take the first part of ascent (from the valley to the border of wilderness) by car. E. g. through the hairpins from Setesdalen to Berg settlement (not far from the village Valle, the traditional centre of Norwegian silversmiths). There begins one of by the red "T" marked trails across the Setesdalheiene. First you will walk a few kilometres through the dwarf birch forest, the next days you will spend in the forest-free area of upland. Easily climbing the Svarvarnuten (1377 m), the highest top of Setesdalheiene, you will see the breath-taking panorama of mountains and lakes.
What's really great:
Limited time to travel? Limited budget to travel to wilderness? Try to visit the Norwegian Heienes!
Sights:
Heienes (upplands) around the Setesdalen there are the paradise for hikers.
Other recommendations:
The village of Valle there is the centre of the silversmiths.
Published on Wednesday March 29th, 2006




Publish on Facebook
Fri, Mar 31 2006 - 03:33 PM

by
sajjanka
Wed, Mar 29 2006 - 05:25 PM

by jorgesanchez
With pictures I would have given you more points. Please, write about those interesting places where you habe been in Caus¡casus. Ther is almost nothing writen about that past of the world here in Globo. Thanks in advance
Wed, Mar 29 2006 - 05:18 PM

by rangutan
A very good tip for us/those wanting to get out of the noisy cities and into the wildness, great that europe still has places like this, thank you Petr. Pictures would add a star to the ratings, specially when the report is short.
Wed, Mar 29 2006 - 03:07 PM

by mistybleu
Nice effort, would have loved to see some pics of the area.
Misty
Wed, Mar 29 2006 - 01:10 PM

by frenchfrog
Shame that photos are missing!, you could also improve it by adding a little more info.
Wed, Mar 29 2006 - 10:07 AM

by bear495
This is an interesting topic. You could add information and a few photos to enhance the appeal of the report.
Russ
Wed, Mar 29 2006 - 09:31 AM

by marianne
Petr,

I was happy to read your first report. It is very interesting to read, but it seems as if you ran out of inspiration after some time. You need not write the whole report in one go. As long as you haven't clicked on: publish this report, we will not be able to write and you will have lots of time to add extra information or photos. You can still edit your report, but given ratings cannot be changed.

These guidelines may be of some help to you:
http://www.globosapiens.net/topic-guidelines-report-writing_48_2315_0000.html

I look forward to reading more about this unusual destination.

Marianne
Wed, Mar 29 2006 - 07:38 AM

by christianj.
Hi Petr,

congrats for your first report! And it's right away about such a 'secret spot'! It could be helpful if you add some more details, information, maybe helpful websites and pictures. Thank you for sharing your experiences in the Heiene with us. I'm looking forward reading more about your tavels...

Regards, Christian
Information:
Login if you are a member, or sign up for a free membership to rate this report and to earn globo points!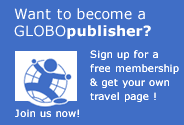 Tau

- gardkarlsen