It was the end of the second week in February, when I arrived in Agrigento. It rapidly became obvious that something was 'happening'. It was the night before the finale of the feast of Mandorlo in Fiori [Almond Blossom].
Temple of Herakles - and almond blossom

I was worried at first. Whatever chance would I have of finding a room? I tried the first place on my list with pessimism. Yes. En suite? Yes. Lift or low floor? Yes, both. High season price? In February, you joke. Life seemed good. It was and the festival contributed much to the joy of my visit. Of course, Agrigento doesn't need a festival for it to be considered good. The town itself is rather appealing. The Via Atenea, the main road, has more interesting shops and a rather more up-market air than most Sicilian towns, without the fervour of Palermo or Catania. However I think it safe to surmise that this is not what attracts its hordes of visitors. Its most published attraction, and deservedly so, is the Valle dei Templi. This is down below the town, near to the coast and local buses run down regularly from the station – that is to say, they do when there isn't a festival procession heading that way. Incidentally the station is the easiest place to get all day tickets for the buses. I wnt down that Friday but on the Saturday I had to walk as, not only was the procession going down there, after I'd watched it setting out from the Athenea; the final outdoor concert was taking place at the bus stop immediately next to the Valley of Temples so I had to walk back up as well. The alternative would have been a long wait Not surprisingly, I went to my bed for a rest and fell asleep, to be awakened by the most enormous clatterings and bangings like a bombing attack. I remembered the final firework display and, close to the hotel, there was a place almost made for a viewing gallery, where I watched the display taking place far below – terrific! People often ask me what they should see on a very time constrained visit to Sicily. The three places I should be most reluctant to forego would be Monreale [see Palermo journal], Taormina [others have done journals] and Agrigento.
Favourite spots:
Temple of Hera, final concert.

I haven't been to Greece but friends tell me the remains in Sicily are top class. I had never seen Greek temples before coming to the Valle dei Templi. The road cuts through the temples area and the two sides are quite different. To the east is a long track passing by temples in different degrees of ruination, but all of recognisable shape. Nearest hte road and partly in a grove, giving it a particular appeal was the venue for the festival's concert, the Tiemplo di Giunone [Roman Juno but the Greek name, Hera, would be more appropriate. Further on is the best preserved and partly reconstructed Tiempo de la Concordia and way out you reach the Tiemplo di Ercole. [Heracles] There were once well over 30 columnns, 9 of which are standing. Providing a foreground from the track in the distant view of the further temples were almond trees in full blossom. Global warming or not, they've still got the festival at the right time! [for east side see last section.]
What's really great:
Another place of great interest in Agrigento is its purpose built archaeological museum, which is a bit over half way down on the road to the Valley of the Temples. There are remains opposite of the old Greek and Roman residential areas but these didn't look particularly attractive to me – or apparently to many others, although I've been told since that I missed something good by leaving them out. The museum is really top class and, since it shows many artefacts taken from the valley below, should definitely be regarded as a mustsee. There is a large area on the ground floor with no ceiling or floor above it to allow height of a vast reconstructed telamon.
Sights:
So, for the festival. I've mentioned the fireworks already but I've not described the procession from the municipal building in Via Atenea to the valley of the Temples.
It started nearly an hour late, though few of those waiting to watch seemed worried by this. There were national contingents from many Central and South American and Asian countries and southern European ones. I was sorry to see that no country speaking English as its first language seemed to be represented.
Not only those in the procession but some children among the observers were dressed in highly colourful costumes and one contingent [Malta I think] included horses which made following after the rear a somewhat smelly business. They must have been well fed.
The final concert consisted of songs, generally national ones I presume, from each participating country.

Accommodations:
I've already said how lucky I was with accommodation. It was the Concordia, in Piazza San Francesco 11. The street is parallel to and lower than the Via Atenea.
In addition I can say that it had croissants and coffee on sale in the foyer and there was a deal for guests at the neighbouring trattoria, La Forchetta, which is good but see restaurants below. [Phone: 0922 596 266]
N.B. I remarked on the Concordia on another site and a comment was left about it being a pity that the hotel had changed owners. I can only say how I found it in 2001.


Restaurants:
A really good place to eat, where I only spent the equivalent of pence [cents!] more than at the Forchetta [above], was La Corte degli Sfizi in Contile Contorni, one of the steep slopes up from the Via Atenea. [Phone: 0922 20052]


Other recommendations:
[continued from favourites above]
On the western side of the road in the Valley of Temples, nothing is in such good order as on the eastern side and even the apparently reconstructed Temple of Castor and Pollux is pretty much a sham. However the huge [i.e. HUGE] pile of debris from the never finished Tiempo di Giove [Zeus/Jupiter] is worth seeing with a telamon [supporting column sculpted as a man] 8 metres high lying on its side as part of the rubble.

It might be worth mentioning here that the motorway between Catania and Agrigento was built on stilts over more of its length than I have seen elsewhere. Clearly this takes up a minimum of agricultural land but what of lead pollution – and if it's a good idea, why is it not done more commonly?

Published on Sunday January 30th, 2005




Publish on Facebook
Tue, Jan 23 2007 - 01:07 AM

by
mrscanada
Hi David I've never been to Sicily and found this report very interesting.
Wed, Jun 07 2006 - 04:30 PM

by murrayskinner
I like this one - very indepth!

Murray
Mon, Apr 25 2005 - 03:37 PM

by uluru1
Hi David,I too have been to Sicily and drove from South to North and vice versa,I noticed the height from the Motorway to the Town below of Catania and the very high Bridges as well,I was in awe of Toarmina and Mount Etna and blown away by the sheer beauty of this truly beautiful Island,Good Report David.
Fri, Feb 25 2005 - 06:40 PM

by mtlorensen
Diapers for horses might be a good idea. Interesting report...sounds like a good time of the year to visit!
Mon, Jan 31 2005 - 10:25 AM

by rangutan
Great! Pictures and report full of life!
Mon, Jan 31 2005 - 03:30 AM

by ravinderkumarsi
hii david,
nice to see a excellent report again from you.
well i like the way write things and i have learned a lot from them.

Mon, Jan 31 2005 - 01:46 AM

by johnnye00
Another great report, hope to retrace your steps.
Information:
Login if you are a member, or sign up for a free membership to rate this report and to earn globo points!
Belgium

Bosnia - Herzegovina

Croatia

Czech Republic

Faroe Islands

Finland

France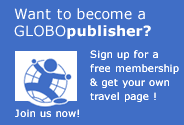 Rome

- murrayskinner