Beijing is the capital of China. There is a magic in that city, the weather, food, people (espcially) you name it and you will find a beauty in that. A city too perfect to be descirbed in words.
Things are different from their image in our mind. Same happened to me when i touched the grounds of Beijing. One of the greatest cities i have ever seen. There is a magic in that city which i cant describe in words.
Favourite spots:
The Forbidden City, Shopping Malls, Great Wall and Duck Dinner
What's really great:
Food, people, Culture, Security, Infrastructure, Shopping Malls
Sights:
Forbidden City, Great Wall
Accommodations:
Hotel are not too expensive. Its better to arrange it when you arrive at airport otherwise it would be hard to find one.
Nightlife:
City is too beautiful that you dont find anytime to go to the clubs.
Restaurants:
Its hard to pronounce and write those names in English.
Other recommendations:
Just Roam Around in the City and you will enjoy.
Published on Friday November 5th, 2004




Publish on Facebook
Tue, Nov 09 2004 - 07:52 PM

by
picasso
Could Improve, and if you can,please add some of your images about Beijing. Spelling?

Good luck
Boris

Fri, Nov 05 2004 - 11:19 PM

by gloriajames
hiya aamir... hope to see more info on your report... and pls check on your grammar and spelling once again...
Fri, Nov 05 2004 - 09:53 AM

by ravinderkumarsi
Information:
Login if you are a member, or sign up for a free membership to rate this report and to earn globo points!
China

Singapore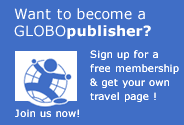 Qufu

- sumantbarooah