It's not my fault they call a particular route 'Norway in a nutshell'. I don't really go for that. However they do and 'they' includes the Norwegian Government. If this is a nutshell, then Flåm is surely the kernel.
Aurlandsfjord: I was there!

The 'Norway in a Nutshell' tour is rather a flexible term. It may be deemed to start at Bergen or even Oslo, depending on where you buy your ticket. However one circuit seems to come into every description. Since it's a circuit, you can start anywhere and go in either direction. Starting at Voss on the Oslo to Bergen railway, one of Europe's famous scenic routes, and going clockwise, the first stage is by coach to Gudvangen, through what I'm sure if fantastic scenery. I preferred to do my own thing and, sorry as I was to miss this ride, I thought that both the next two bits of the so-called nutshell were well worth seeing in both directions. The next stage is the car ferry from Gudvangen to Flåm along first the Nærøy Fjord and then the Aurlands Fjord. I rate the Nærøy Fjord in the same league as the Geirangerfjord, further north; i.e. among the very best. Then from Flåm the private Flåmsbahn railway pursues its technologically and scenically wonderful way to Myrdal, where you are back on the Oslo-Bergen line and ready to complete the circuit on it to Voss. I spent one night in Oslo, three in Flåm and one in Bergen. I did the whole length of the wonderful Oslo-Bergen line, the Flåmsbahn in both directions, the Flåm-Gudvangen ferry both ways, an evening fast boat trip from Flåm to Sogndal and back, a day going by bus to Aurland and then over the well named snow road to Laerdal, where a festival was trying vainly to compete with horrific rain. I also had a short walk up the valley from Flåm, which would have been longer had the terrible rain not started and driven me on to the train. I can't think of a much better way of using time. However, if you prefer to keep to the nutshell proper, go anticlockwise as I think both railway and ferry are best in that direction. If, like me, you find yourself with a seat booking from Myrdal or Voss to Bergen but you would prefer the earlier local train, don't worry. Just go on the local train; you don't need to book for this.
Favourite spots:
The ferry from Flåm to Gudvangen is wonderful. Don't risk going to Aurland by bus and catching the ferry there. I did, and it was full! Get on at Flåm. The Aurlandsfjord is grand and just before you turn into the Nærøyfjord, which is really glorious, you pass a very small place called Umdredal, until recently only accessible by boat, the beauty of which really does affect the breath and cause tears. It's surrounded by mountains and now there is a VERY steep and minor road up, giving alternative access when it's not snowed up. I'd love to see it for longer. Another exciting place, seen if you don't blink, is the smallest postal district n Norway. Sadly I forget its name. Gudvangen itself comes as a shock. Even though the ferry is quite crowded, your attention is always on the immensely peaceful land beside you. Now there are people everywhere – mainly nutshellers, emerging from an array of coaches. I gave in to my doubts about Nutshell tours and reboarded the ferry.
What's really great:
When Norwegians rave about something in their country, you know its special and they rave about the Flåmsbahn. Of course it is special; even the mountain railways in Switzerland don't drop from well above the snow line to the sea; [it would be truly miraculous if they did!] 1. TECHNOLOGY: You feel safe in spite of the long steep gradient, when you know that in each coach there are five separate breaking systems, each able to stop the whole train! 2. SCENERY: This is superb. From near the top at Myrdal you can see right down to the bottom, seemingly almost vertically below. There is a station by a mighty waterfall and steps open down from each coach to allow you to get out for a look. Your commentary has told you about a beautiful siren who sings to attract travellers and lo and behold: music breaks out and a female voice breaks the air – and there she is beside a rock by the waterfall. What? The noise is coming from the train? Oh well, you can't win 'em all.
Sights:
Aurlandsfjord: photo/driver's fag break

I guess the Snow Road from Aurland to Laerdal must be full of terrific views. The first part, giving views back over the Aurlandsfjord was certainly tremendous. Regrettably the remainder of the trip could have been better called the 'Snow Only Road' as you couldn't see anything through the mist except the snow piled up close to the road.
In Laerdal it was the human activity that provided the visual interest. The stalls and stallholders associated with the festival were out in a great field with the elements doing little to stem the ardour of sellers of everything from agricultural equipment to trolls. Sadly, no matching ardour was shown by buyers.
Similarly a band was playing under the cover of a tarpaulin for anyone hardy enough to sit in the open and listen – of which there were none!
Most people were crowded into a huge marquee, where delicious nibbles cooked to old recipes were available – and sour cream porridge, a scrumptious dish.


Accommodations:
I stayed at the Heimly Pensionat, which is discovered if you follow the coast to your right as you face the sea, turn the corner to the left and walk at most a couple of hundred yards/metres.
It's cheaper than the other establishment that advertises on the web. It has a terrific view, comfortable rooms, reasonable prices for half board accommodation and the proprietors are very friendly. He is one of the drivers on the train and was mortified at not having recognised me when I abandoned my walk. He ran me down to the train next morning when I had to leave.
Phone: +47 (0) 57 632 300


Restaurants:
Heimly Pesionat - from ferry

I ate at the Heimly Pensionat – see below. It was a set meal of soup, main course and pudding and very acceptable.


Other recommendations:
Whereas my evening trip to Sogndal in a fast boat was enjoyable, for these boats –which provide an alternative way of getting from Bergen to Flåm – you have to sit downstairs at a level little higher than the water, a significant restriction of views. Even so, it was quite an experience to cross the Sognefjord, Norway's largest, after seeing Umdredal again – the boat actually pulled in on the outward journey and I guess they'd pick you up on the way back if you asked.- and seeing the lights of Balestrand come on in the distance.

There are walks in the area of all levels. I was feeling at peace with the world and myself just walking up the valley and there is another easy cliff walk towards Aurland. However, when it rains there, it pours and I was happy for the train to take me back down.

Published on Monday January 10th, 2005




Publish on Facebook
Tue, Apr 25 2006 - 09:46 AM

by
lafalott
Thanks for pointing me here, it has lots of tips for my trip!
Tue, Jan 11 2005 - 11:07 AM

by gloriajames
Information:
Login if you are a member, or sign up for a free membership to rate this report and to earn globo points!
Norway

Peru

Portugal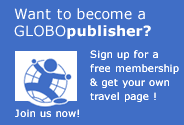 Tau

- gardkarlsen