I lived in Florence for close to one year back in 96 and 97. Where does one begin to describe the beauty and richness of this old town? A peace of my heart has remained in the city of Florence, as I'm sure is the case with anyone who has set foot there. The most beautiful time of day there was around sundown when the entire city would glow a rich amber.
Favourite spots:
Ponte Vecchio (old bridge) lined with jewellers shops, Plaza Di Michaelangelo with incredible views of the city, the hilltops of Fiesole
What's really great:
I loved eating a fresh gelato while strolling the streets, conversing with friends on the steps of the Duomo, spending endless hours in the Uffizi gallery
Nightlife:
My haunt was a club by the name of Dolce Zucchero (from where my nickname originated), always bustling, with a great mix of people and tunes.
Hangouts:
There was an Irish pub (can't recall the name) right by the train tracks, a great place to grab a pint and meet fellow travellers.
Published on Tuesday September 24th, 2002




Publish on Facebook
Information:
Login if you are a member, or sign up for a free membership to rate this report and to earn globo points!
Italy

Philippines

Taiwan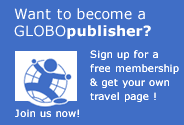 Rome

- murrayskinner