A whole lot of history all rolled up in one place. From ancient Rome to Red Dwarf... the sushi isn't quite the best I've ever tasted, but they try. The tube will get you almost anywhere, but if you have the time, walk! You'll see a whole lot more.
Favourite spots:
Covent Garden. The Science Museum. Victoria & Albert Museum. Portobello Flea Market.
What's really great:
Love the town! Love the theatre! It is a town to see by walking around... a wonderful combination of the old and the new... all round up in individual buildings, neighborhoods, etc.
Sights:
V & A Museum
Accommodations:
You tell me... Lonely Planet gave me a horrible recommendation. It's the only place I've ever stayed in that had graffitti on the walls inside the room, complaining about the place
Restaurants:
Bella Pasta.... good price, filling food. Nandos Chicken - great flavored chicken
Other recommendations:
Any and all live theatres
Published on Saturday June 22th, 2002




Publish on Facebook
Information:
Login if you are a member, or sign up for a free membership to rate this report and to earn globo points!
United Kingdom

United States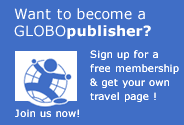 York

- kathmandukitten