The Maldives has close to 1200 islands of which aproximately 200 are inhabited and 80 or so are resort islands. This is a very popular honeymoon destination, but tourists never get to see the locals as they are. Who are they? What is their life like?
The Maldives has been inhabited for as long as 3000 years. Buddhism was widely practiced up until 1153 AD when Islam came to the islands. To this day, Maldives is one of the few 100% Muslim countries in the world. Indeed other religions are against the law. Interestingly, although they learn to read Arabic to recite the Quran, they don't understand what they read. Their knowledge of Islam is mostly by word of mouth. Their faith is strong, but some of their beliefs have blended with older folk tales and superstitions which they will swear is from the Quran as their Mother told them. Maldives is a democracy, but it has had the same President for the last 27 years and opposition is illegal. There is an opposition party, but they are based out of Sri Lanka. Any threat to the President's power is obviously made by drug users who only want to disrupt and corrupt the lives of the good people of Maldives. Recently the EU has stopped aid to the Maldives and is discouraging it as a Fun in the sun, tropical paradise because of human rights issues. It is common for people to be imprisoned without trial. This aside, Maldivians are a peaceful people. Most are only dimly aware of the strife between the government and the illusive opposition. In a country that is 90% water, their lives are inextricably tied to the sea. I watch in amazement as my co-workers happily eat tuna fish curry three times a day. Maldivians prefer tuna over the abundant reef fish. The traditional fishing boat, the Dhoni is both an income and a home to many fisherman. Now with the tourist industry, everything has changed. No longer are people limited to their island, but they have a chance at a much greater income if they work for a resort island, seeing their families only 1-3 times a year.
Favourite spots:
Flying in a sea plane over the Maldives is an experience to remember. Of course all experiences here are surreal and heavenly. Island hopping is a chance to see a few more islands and perhaps see a local island as well. Uninhabited islands bring up romantic daydreams of being shipwrecked at sea and washing up onto a tropical paradise. Male is an interesting excursion. It is unlike anyplace else in the Maldives. The people love gadgets and everyone will have a cooler phone than you! Sea kayaking here is a graceful slide into a dream. One day I was lucky enough to have 3 bottlenose dolphins accompany me back to my lagoon from my second island. They were just over a meter from me. Sometimes flying fish suddenly appear like small birds flying in a straight line 20 centimeters or so above the water for many meters. Snorkeling and diving here is an experience of a lifetime. The corals here are a garden haven for tropical fish, rays, giant clams & so much more!
What's really great:
Exploring the underwater world here is truly awe inspiring. Even standing on my jetty I can see three different kinds of sharks (friendly ones), a large moray eel, several giant clams and the occasional Eagle Ray flies by. The water is full of biophosphorescent plankton which glows like stars on a moonless night. Everyday at 16.30 the Sting Rays come up to the beach for a feed from our Marine Biology Lab. They are quite flirtacious. A new and exciting event is the spawning of the coral, which was filmed here with the help of some internationally renowned coral experts. My particular resort is the only resort in the Maldives to emply a full time biology lab with 5 staff including the foremost marine biologist in the Maldives. We regularly sponsor the world's leading scientists as consultants with our research. Living here is a very special experience. It is a different kind of life. If global warming progresses, it won't exist in 30 years.
Accommodations:
Angsana Resort and Spa, Ihuru Island, North Male Atoll
Friendly staff, fabulous reef, 4 stars and a world famous spa! What more can you ask for?
Nightlife:
Club Med is the only club around. It's a five minute speedboat from the airport.
Other recommendations:
Talk to the people when you are here. They will happily tell you all about their families and their islands. They have a very special life here, and one that is in danger if the sea levels rise. Scientists predict that the Maldives will not exist in 30-40 years.

It is a small culture of between 300,000 and 400,000 people that will be lost along with their language, Dhivehi. They should be remembered. They have embraced the modern world much faster than we have. A common phrase here is, Then we learned there was a better way. In thirty years they went from a simple island people to an odd mixture of super modern and traditional.
Published on Wednesday December 22th, 2004




Publish on Facebook
Mon, Oct 02 2006 - 06:34 PM

by
mrscanada
Super review. Did Club Med let you in to buy some cloths and dance?
Tue, Nov 01 2005 - 12:03 PM

by etelka610
It does sound heavenly, nice report
Fri, Dec 31 2004 - 03:01 AM

by fieryfox
I look forward to see some pictures to compliment this great report.
Cheers. Farizan.
Thu, Dec 23 2004 - 10:24 AM

by rangutan
Fantastic report on a place my brother told me about - exactly same view!
No pictures? Not a problem, words CAN discribe a place very well too. See www.globosapiens.net/country/maldives.html for mortimers great pictures, specially the sunset
Wed, Dec 22 2004 - 04:25 PM

by picasso
Wonderful ,for me it was a pleasure to read and learn from you report about this distant Islands and about lifes of its local people and ther culture.*****

Boris
Wed, Dec 22 2004 - 01:03 PM

by magsalex
Wed, Dec 22 2004 - 10:29 AM

by esfahani
...great! ... but pleeeeeaaaase add some pictures!
Ralph
Wed, Dec 22 2004 - 10:06 AM

by ravinderkumarsi
hii,
excellent report,should include some pic of islands too
ravi
Information:
Login if you are a member, or sign up for a free membership to rate this report and to earn globo points!
Argentina

Chile

Maldives

New Zealand

Peru

Spain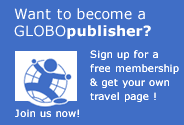 Gan

- jorgesanchez