Swank little town in the middle of everything. Great atmosphere, never too hot or too cold, very artsy. I recommend this place for a layed back, relaxing vacation.
If you're looking to have a low key, relaxing vacation, and you're not worried about the cost, this is the place to be. Monterey is not a large town but it's main strip offers exquisite resteraunts and some rather entertaining night life. If you're looking to really get away from it all, head south 20 miles to Carmel where you'll find beautiful beaches and the best wine tasting in the country. Or pay a vistit to Pebble Beach; you'll spend around $350 for a round of 18 holes, but the course is world class and the scenery is better than you could ask for. If it's partying is what you're after, head north of Monterey about 30 miles to Santa Cruz. This town is a college town and all about the California Life. The best part of this little town is the beauty of the surrounding area. If you read Steinbeck you are automatically filled with an urge to travel to the Salinas area, but he does nothing to capture it's true colors. From the pristine coast of Big Sur to the deep valley's and rolling mountains of the Rockies, this area offers endless day hikes, surfing, and some great climbs. Granted the surfing is not nearly Hawaii scale, and the climbing is not on the same as Yosemite, but combined with the luxury and comfort of the nearby towns, the Salinas area, and specifically Monterey, is a great place to visit.
Favourite spots:
When visiting Monterey, make sure to check out Fisherman's Wharf, and if you're into sea food, give the calamari from the local vendors a shot. For fine dining walk down the main strip and take your pick from the resteraunts, but if you're in the mood for a GREAT, quick, sandwich, and REALLY hungry, give Companios a shot. If you're in the Cannery Row area, just take Prescott to the top of the hill and it'll be on your right hand side. If you're looking to experience the outdoors, my recommendation is the Pinnacles National Park. There are bat caves there, (which unfortunately are almost never open due to breeding) some incredible climbs, and the reservoure is a great place to sit down, get some sun, and munch on tuna and crackers. Most of the place is bolted so you don't need all you're gear. I also recommend Castle Rock. As I said, the surf can be great, but make sure to bring a wet suit. The water is freezing all times of year on the west Coast
What's really great:
Special attractions are definitely the Pinnacles for a great day of climbing, Companios for a great lunch, the Wharf for a great seafood snack, 17 mile drive for some great scenery, and Carmel for the beaches.
Hangouts:
For pubs I recommend the same approach as for dining. Walk down the main strip and take your pick.
If you are going for the sake of finding some good nightlife, research a little before you go and find out when they are having either one of thier blues or jazz fests. For these they shut down the entire main strip and host a fest in the street for 2 nights. Great time.
Other recommendations:
I think I've mostly covered it.
Published on Tuesday October 19th, 2004




Publish on Facebook
Fri, Oct 22 2004 - 11:39 AM

by
yellow_daisy
Hi Nate,
Your report brings back to me a lot of nice memories about a wonderful place in the West Coast.

Daisy
Thu, Oct 21 2004 - 05:01 AM

by bineba
Monterey is also one of my favourite places along the West Coast. I also like going to the Aquarium there.

Sabine
Wed, Oct 20 2004 - 08:57 AM

by bear495
This is an interesting report, but without photos it is difficult to mentally picture some of the places that you mention.
Wed, Oct 20 2004 - 12:30 AM

by ravinderkumarsi
well nathan i read both of ur reports and you have taken a lot effort to write them,but i will suggest you to put some pictures too in it.
ravi
Information:
Login if you are a member, or sign up for a free membership to rate this report and to earn globo points!
New Zealand

United States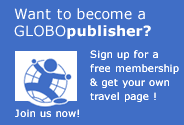 Maui

- murrayskinner