Though thought to be a web of vineyards, Napa surprisingly has a lot more history than I at first suspected. You'll find a wealth of California history in Wine Country.
The Wine Country has two main areas--the Napa Valley and the Sonoma Valley. Each has its own personality. Because Wine country is expansive, driving through wasn't always a straight shot. We sometimes had to plan a winding drive through a small mountain range. It's best to plan short trips over the course of several days. The country requires a kind of lackadaisical feeling, so be prepared to take in the country-side, a picnic lunch, or maybe even a hot air balloon ride..
Favourite spots:
Since we had only a few days, we concentrated first on the Napa Valley north of Yountville. We made of first stop in Oakville where the circa 1880's Oakville Grocery-once a Wells Fargo Pony Express stop--is one of the most popular places for picnic supplies and espresso. We enjoyed the picnic grounds at Robert Mondavi before touring the winery and tasting the wine. We had a little extra time so we spend the night in town of Rutherford and visited the Niebaum Coppla Estate featuring displays of movie memorabilia from Francis Ford Coppola. There was also a series of really good red wine we tasted there. We also spent some time at the Freemark Abbey Winery and then drove to Calistoga for a balloon ride (on our third day) We really enjoyed the balloon ride because we had never been on one before, but even better we got to see the most beautiful views of the countryside--the would have been otherwise impossible. We also visited Clos Pegase Winery with our go San Francisco Card.
What's really great:
We loved the Old Faithful Geyser of California and the Robert Louise Stevenson State Park. Copia (the American Center for the Wine, Food, Arts) was absolutely what we needed to acclimate ourselves to what we were going to do in Napa and Sonoma. With an enormous variety of food-related art exhibits, screenings, and tastings, this place really schooled us in the art and history of wine. There was a fabulous exhibit on food and art, and we loved the one hour tour of the Copia gardens. We also ate at Julia's Kitchen, Julia Child's restaurant where we had French/California food. Absolutely perfect!
Sights:
Napa Valley Museum of Art: Great museum if you're interested in knowing more about Napa Valley's history and love of art. Features an interactive wine exhibit which was really facinating. I recommend it as a break from all the wineries :D

Luther Burbanks Garden and House. Luther Burbanks spent over fifty years breeding plants in his napa home. Some of the living results are in his gardens and greenhouse. Had a wonderful, calm afternoon there.
Accommodations:
Since we had saved some money in San Francisco, we got a very nice Hotel in Napa Valley, the Napa River Inn. The orginal artwork and fireplaces are all there, and we had a room with a small balcony. Very enjoyable stay there.
Published on Friday August 26th, 2005




Publish on Facebook
Information:
Login if you are a member, or sign up for a free membership to rate this report and to earn globo points!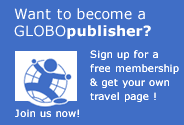 Maui

- murrayskinner