This unique coastline was in parts devastated by nature on the 26th December 2004. Media headlines broadcast that 5000 were killed and 10,000 homeless. That frightened all the visitors away and the foreign media are still broadcasting the wrong message!
Fossil Beach - untouched by the tsunami

My 300km drive from Krabi town north along Thailand's west coast to Ranong where it overlooks Burma has always been scenically beautiful. Phang Nga province alone has been a magnet for tourists for almost 30 years since the James Bond film "The Man with the Golden Gun" put Phang Nga's so called James Bond Island and the whole region on the map. To the south, Krabi Province was almost untouched by the tsunami, although some of its islands such as Phi-Phi were partially hit. Now the whole west coast tourist area has become a series of ghost towns. Phuket, Krabi and Ao Nang - towns usually full of tourists are all deserted. Hoteliers told me their usual 100% occupancies are now down to 15%, albeit that they have cut their prices dramatically in a vain attempt to lure trade back! Driving north from Phuket through Phang Nga province one passes through Kao Lak and it is here that the devastation was complete – horrifyingly and sickeningly so. Nothing is left standing intact, save for a few palm trees. Much in evidence throughout the region are the various tsunami relief aid workers, doing a huge job clearing damage and now busy rebuilding homes, businesses and lives. I saw truck loads of Burmese migrant workers standing 50 to a truck, given special visas to rebuild Phuket's affected beach areas, principally in Patong's beachfront road. Everyone here on this coast has a story to tell and its part of their psychological healing process to recount it! In reality, the shoreline was only devastated in a few places. Phuket Island houses many wonderful beaches such as Kata Beach, one of the worlds finest, that beach was virtually unscathed by the tsunami, thankfully no one was killed or injured there and businesses are open and crying out for custom. The media never told us that! One Thai landlord I met had 5 beachfront rooms to let – so far in the first 3 months of this year he had had just 8 visitors – yet the whole area is as it was before the tsunami.
Favourite spots:
Kata, Karen & Patong Beaches, Phuket

There is absolutely no reason why tourists should not return – flights, roads, transport and most hotels and restaurants are 100% operational. Travellers will have no problem with buses, roads or indeed accommodation and food. Self drivers like me found deserted roads, hotels and restaurants at bargain rates. Head for all your favourite mainland spots but do avoid the 10km or so around the Kao Lak coast – that is still devastated but on schedule to be rebuilt by the end of 2005. Generally, the whole coastline scenery is still special, the people so friendly and their food cheap, plentiful and delicious. For once there is little need to bargain or haggle – traders are so desperate to sell their services or goods that the price they offer is likely positioned to attract your trade! It was the media's saturation tsunami coverage, and the general public's lack of geographical knowledge that made us all think that the tsunami devastation was total - that is far from the truth!
What's really great:
KaoLak Beach after the tsunami before restoration begins

What a pleasure it was – pure heaven, hours of daily sunshine and so few tourists! Wherever you arrive you are treated regally, again typical Thai hospitality offered in return for your loyalty. Very little has changed – some of the globe's finest scenery, food, lodging and fun still await your return. If you go there soon you will see that the local people need you to return - tsunami aid is not available to most of them – because it didn't hit the majority! It was a pleasure to escape from Thailand's bustling, eastern Gulf shores this March, although well away from any earthquake zone and never affected by the tsunami it received additionally all the west coasts tourists. So little has been done by the foreign media who are still broadcasting the wrong message and I fear that people will shun Thailand as they remain frightened by the 26th December 2004 aftermath. In truth so little of Thailand's lands, coastlines or people were actually affected by the tsunami.
Sights:
The departure point for James Bond Island in March - Phang Nga's empty Main St.

Thailand truly is the Land of Smiles and although many people on this western coast have witnessed terrible tragedy they still smile through and remain hopeful that tourists will return! No one will ever forget the tsunami; we will all relate it's horrors for the rest of our lives to our children and grandchildren. We can however be realistic and appreciate that it recurring again in our lifetimes is very remote. If it did at least we will all be better educated, prepared and pre-warned.
Some sights beyond Phuket:-
1. Phang Nga Province – James Bond Island – still spectacular.
2. Koh Yao Noi – a small Thai island of dreams. 100THB by ferry from Bang Rong Pier
3. Khao Sok – Wilderness tropical rainforests, caves and rare plants and animals. 3 meals a day and a room from THB500 a day on Highway 401 from Phuket to Surat Thani
4. Koh Lanta – Great island offering good diving and accommodation. Car ferries from Phuket and Krabi Town – 4x4's recommended.



Accommodations:
Holiday Inn Phuket - reopens today 1st April 2005

Patong Beach on Phuket did receive tsunami damage as did The Holiday Inn on Beach Road. However its Busakorn Wing reopened on the 1st April 2005 and the main wing reopens fully refurbished in late July. I reproduce here (with their permission) a postcard received from them today!

Most hotels and lodgings are fully open – all offer post tsunami rate special deals:-
Mom Tri's Boathouse, possibly the finest boutique beach hotel on Thailand's west coast had rates reduced by over 50%. The accommodation is superlative and the food and wine amongst the best in the world.
Krabi's Five Star Marina Park Hotel is offering post tsunami rates at THB1500 per night (£20.00) and is outstanding value for such comfort.
Phi Phi Islands Holiday Inn remains fully operational. (076) 261 860 The Cliff, near to Krabi is another excellent choice.
Krabi Resort at Ao Nang has direct access to the beach. Ao Nang is a delightful town with lots of amenities and plenty to do.

Nightlife:
Kata Beach and to the right a great beach Ska Bar

In Patong Phukets lively nightlife capital all the usual clubs were fully operational within days of the tsunami but most still lack customers I am told. Patongs notorious Soi Bangla Bar area with its offshoots was unscathed by the tsunami and apparently still plies for trade nightly. In Patong "The Port" has a good Filipino band playing. Star Club and Banana Club on Beach Road Patong are still going well. Dragon is one of the newer disco's whilst Tiger and Crocodile Club feature a mix of live group and DJ music.
Hangouts:
The Green Man Phuket - a bit of Olde England in Thailand

The most popular sports pubs around Patong are the Aussie Bar in Soi Bangla, Heroes at Sawatdirak and Football Crazy. All have live satellite TV Soccer, Rugby, Formula One broadcasts. Scruffy Murphy's Irish Bar on Patongs Beach Road in Phuket remains desolate but I am told that work will recommence soon to rebuild it. Its Irish sister bar on Soi Bangla – Molly Malone's has reopened and still serves a great pint of Guinness.

The Green Man (pictured) is inland a few kilometres from Kata Beach on the 4028 Phuket road. It is so incongruous to see a mock English pub in the middle of a Thai Island, but it is well worth a visit. The menu is extensive and a Sunday roast lunch is always on the menu. It is frequented by many ex patriot Farang's who live on Phuket.


Restaurants:
Mom Tri's Boathouse Wine & Grill one of the very best in Phuket

Eating is easy in Thailand and the choices are enormous. In over 30 years of visiting I have never once had tummy troubles here. You name what food you want and you can find it here. One of the best meals that I had on my whole trip was in a small roadside shack in a little town of Khuraburi. Fresh noodles, vegetables and chicken and a Singha beer – the total cost 10THB for the food and 30THB for the Beer – that's around 50 pence or 1 US dollar! At the other extreme Mom Tri's Boathouse and Grill on Kata Beach Phuket is one of the best places to dine in Thailand. Again a full dinner menu with wine rarely exceeds THB1000 per head. Try eating and drinking to that standard in the West – almost impossible today!

If you are in Phuket pick up from any Hotel or Restaurant a free copy of the bi-monthly "Where to Eat" booklet.


Other recommendations:
Despite natures disasters it still throws up its wonders - These Lotus flowers and buds at Krabi

Getting there is easy – at the moment there are so many cheap international offers around. Non Stop return flights from the UK to Bangkok start at £380 with Thai Airlines – see www.airnet.co.uk.
It's even cheaper from Singapore from SS9.98 on Tiger Airways one way. www.tigerairways.com
Within Thailand buses are frequent, car hire is plentiful and internal flights are numerous see www.thaiairways.com and www.phuketairlines.com and www.bangkokair.com who are offering a one way fare from Bangkok to Phuket for just THB1650 (£22) until the 30th June 2005.
As from May 2005 Thai Airways fly 17 hours non stop from Bangkok to New York on their brand new airbus.

Rates of Exchange:- 74 baht = £1. 40=US $1. 24=S$. 50 = € 1

Published on Friday April 1th, 2005




Sat, Apr 30 2005 - 08:04 AM

by
polytrad
Hi Brit,

This updated report about current situation of Thailand in the wake of the disatrous tsunami is very intersting.

Bertrand
Mon, Apr 04 2005 - 04:32 PM

by mistybleu
No April fools here, this is a great reports.

Rgds

Misty
Mon, Apr 04 2005 - 09:21 AM

by ravinderkumarsi
Sat, Apr 02 2005 - 04:46 PM

by yellow_daisy
Fri, Apr 01 2005 - 02:25 PM

by rangutan
Great! The area quickly returning to paradise again, scars will heal over the years.
Fri, Apr 01 2005 - 02:11 PM

by magsalex
Just booked to return and visit friends - taking my nephew too to experience a great country. Some useful and up to date info.
Superb job!
Fri, Apr 01 2005 - 10:17 AM

by bear495
Fri, Apr 01 2005 - 08:56 AM

by gloriajames
Brilliant! guess i must take advantage of the low fares from budget airlines and swing by for a hol! 5*

Fri, Apr 01 2005 - 05:49 AM

by davidx
Nothing less than we expect from you - which means terrific.
Cheers, David
Information:
Login if you are a member, or sign up for a free membership to rate this report and to earn globo points!
Australia

Cape Verde

Colombia

France

French Polynesia

Kenya

Mexico

South Africa

Sri Lanka

Thailand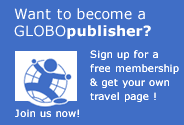 Pai

- kindberg37