I had the opportunity to spend six weeks in Venice, studying art and art history, through a program offered at my school. I'd been to Venice before, but only for two days on a whirlwind trip of Europe. I had loved the island city then, but this trip deepened my understanding and appreciation of this incredibly unique place.
Favourite spots:
Venice, though situated on water, is a walking city. A stroll down her narrow streets is the best way to get acquainted. If you have one day, be a tourist. See Basilica San Marco, the Grand Canal, and Rialto Bridge. If you have more time to spend, buy a Chorus Pass, which will give you entry to many of the city's churches, filled with art by Titian and company. If art is what has brought you to Venice, the Accademia Gallery cannot be missed. If you have an extra day, there are a few lovely islands in the lagoon. My advice would be to skip Murano. Instead, head straight for Torcello and Burano. Torcello has the oldest church on the lagoon, and features an amazing Byzantine-style mosaic on its back wall. The island is also one of the few places where nature still thrives. Burano is charming – it is a fishing village known for its lace and its colorful houses. Take lots of pictures – the deep blues and reds and greens of the houses make it impossible to take a bad photograph.
What's really great:
Many tourists come away from Venice disappointed, the romantic city they expected being hot, smelly, and overrun with… well, other disappointed tourists. My advice? Stay overnight in Venice proper, spend your days in cool churches and museums, and come out after dark. After the day-trippers have returned to the mainland, San Marco is what it should be – truly romantic. Have a late dinner at one of the expensive restaurants that line the square, or just sit on the steps nearby and listen to the live orchestras. Or come at midnight, when the square is almost empty. Enjoy the glow of the pink street lamps, and the sight of the Basilica sparkling in the darkness. Walk along the waterfront and listen as the dark waves hit the gondolas parked for the night. Also wonderful is the Feast of the Redeemer, when the Venetians take back their city. The fireworks over Giorgio Maggiore are spectacular.
Sights:
Anyone going to Venice must see Piazza San Marco, or Saint Mark's Square. All of the tourists know this and on any given summer day, the "finest drawing room in Europe" as it was called by Napoleon, is crawling with people and pigeons. For the basilica, get there early in the morning to beat the (majority of) the crowds. The Doges Palace is another attraction that shouldn't be missed, but more for its eerie dungeons than its beautiful rooms. There is also the Grand Canal. While a gondola ride is the best way to see the famous canal, a cheaper option is to buy a vaporetto pass for five euros, and take the number one from the train or bus station to San Marco. Famous sites along the Grand Canal include the crowded Rialto bridge, the Ca D'oro (house of gold), the wooden Accademia bridge, and the romantic church of Santa Maria della Salute, with large baroque scrolls that seem to hold up its white domes. Buy yourself a guidebook before you go on the canal, and keep your camera ready.
Accommodations:
The school took care of our housing while we were there, and rented apartments for us. I was assigned to a house with three other girls, right off Via Garibaldi in Castello. It was an adorable apartment, three small storeys sandwiched in between other houses in a residential section far away from the touristy center.

While the apartment was an essential part of the experience, travelers looking for a more typical vacation should try the beautiful little hotel 'La Fenice de Artists'. My family stayed there when they met me at the end of the program, and it was the best place they stayed while in Italy. The hotel staff was friendly, the rooms were well equipped and adorably decorated – walls covered in an understated floral fabric, and a Murano chandelier hanging from the ceiling – and best of all, it was air-conditioned. It was also relatively inexpensive, and tucked away in a private little square just a few steps from San Marco, the Accademia, and many other famous sights.
Hangouts:
On my birthday we splurged, and went to Harry's Bar. Personally, I thought the 13 euros for the Bellini was worth the experience. And the Bellini was pretty amazing itself.
Restaurants:
I can't remember ever having a 'bad' meal. Campo Santa Margarita has a nice, vibrant atmosphere in the evenings. For lunch, pick up a panini at any little sandwich shop. Some are better than others, but most are cheap and thankfully less filling than pasta on a hot summer day. And the gelato is not to be missed. Our favorite was 'Il Penguino', a few blocks away from our apartment, and right by the Giardini stop on the vaporetto.
Published on Sunday September 14th, 2003




Publish on Facebook
Thu, Apr 20 2006 - 08:59 AM

by
leillli
hi :)nice report
i see you live there short time,can you tell me about s.marco more?is there anything special there for tourists,or if the italian do some thing special,i study architecture and i have to know about the facilities surrounded the square
thank you alot,leili
Mon, Nov 01 2004 - 10:51 AM

by mistybleu
Hi Polly,

Your report left me smilling, it was really nice that you took a different approach and recommended visiting the city at night.
Fri, Sep 17 2004 - 05:23 AM

by saleha
Dear Polly,

I enjoyed reading your report...you have a nice expression when it comes to describe what one feels while visiting such places...
Thu, Jul 29 2004 - 02:58 PM

by emmalea
I enjoyed your article. I wiah my school had offered a program to go anywhere. I definitely would like to walk along the Grand Canal to see some of the sites you listed.
Tue, Feb 03 2004 - 09:25 PM

by daniserralta
Yeah! Good report!
I love Venezia too.
One of the world best cities... so romantic, so bohemme, so nice, so quiet ...
Bye!
Information:
Login if you are a member, or sign up for a free membership to rate this report and to earn globo points!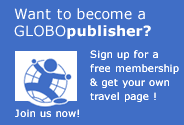 Rome

- murrayskinner