Do you remember the Hollywood movie - "The Italian Job"??? Precisely, it was shot partly in Venice! Why do people dream of visiting Venice?? Let me tell you how this magical city enthralled me.
The sight that greets you when you dock at the pier.

This fairytale city is an archipelago of 118 islands and is a feast for anyone's eyes with its magnificent palaces, bridges and domes. The first stop for any tourist is to head to the heart of Venice ie San Marco with the lively St Mark's Square (Piazza San Marco) described by Napoleon as "the drawing room of Europe". As you explore, you will feel as if you were walking in a maze, hence arm yourself with a map. Every turn seems to take you to a medieval bridge (there are about 400 bridges) and as you keep walking, you discover and explore the beauty of this romantic city. You will realise that there are no streets for cars and bikes, just 150 canals for the boats which indeed provides one with a unique experience. There is a price to pay for enjoying the beauty of Venice. Things are costly and be prepared to pay a lot for a cuppa when you sit at an overpriced café enjoying the view of the San Marco Basilica. You can spend the whole day walking about in the Piazza and when dusk comes, you will be most happy to wander around hand in hand with your loved one. One of the most famous festivals include the pre-Lenten holiday that takes places a week before Ash Wednesday (ie usually in February). This popular wear-a-mask festival, opens with a series of lavish balls and private parties that take place in the Doges Palace. If you miss this, don't fret, as there is much fun in the streets too. Everywhere you look, you will be enchanted by many musical and cultural displays and events. Don't leave Venice without purchasing the famous Venetian Masks as you can use it for any of your costume parties and Murano glasses and chandeliers to brighten your home.
Favourite spots:
1. Bridge of Sighs, built as a passageway between the Doges' Palace and the prison in 1600 and appropriately named as prisons used to sigh when being led to trial. 2. Basilica of San Marco, a Byzantine and Romanesque wonder is Venice's most famous basilica. For me, it is definitely one of the world's greatest and most richly embellished churches. I simply loved the cavernous candlelit interior gilded with mosaics. There is a strict dress code for men and women and no photography is allowed inside. 3. Rialto Bridge – the oldest bridge in Venice (built around 1172 AD) and offers fine views of the Grand Canal.
What's really great:
Sunset at the Grand Canal

If you would like to soak in the beauty of Venice and marvel and the gothic and renaissance building, then you have to go on a 2 miles gondola ride on the magnificent Grand Canal which takes you past historic buildings like Marco Polo's House and ornate bridges ie the famous Rialto Bridge. This is one of the most romantic and heart stopping waterways in the world. Not to dampen your spirits, but just thought that I should add that it's not advisable to ride the gondola during the hot summer as the smell from the canal is unbearable
Sights:
1. Doges Palace (Palazzo Ducale) is a pink and white gothic palace highlighting its fine Venetian glory. This architectural masterpiece is superably done both on the exterior and interior. It used to be the official residence of Venetian rulers.

2. The Clock Tower at St Mark's Square is another example of early Renaissance fine Venetian architecture which not only tells the time, it also matches the zodiac signs according to the sun's position.

3. The Rialto Markets renowned for their produce of fresh fish and seafood.

4. Academy Gallery to view fine Venetian art.


Accommodations:
Londra Palace
Riva degli Schiavoni,
Castello 4171,
30122 Venezia.
Tel: 041-520-0533
www.hotelondra.it
This is a very expensive hotel situated a few meters from the heart of San Marco's square.

Hotel Rialto
Riva del Ferro,
San Marco 5149,
30124 Venezia.
Tel: 041-520-9166
www.rialtohotel.com
A moderate priced hotel located near the Rialto Bridge, and has breathtaking views of the Grand Canal.


Hangouts:
Harry's Bar
Calle Vallaresso, San Marco 1323
Tel: 041/528-5777
Reservations is a must at this restaurant made famous by Ernest Hemngway. Go on and try the famous signature cocktail drink called the Bellini.

Restaurants:
Antico Martini
Tel: 041/522-4121
Opened in 1720 and serves mouth-watering Venetian cuisine and fine wines.

Other recommendations:
why not get hitched in this romantic city??

For more info:
http://www.venicetouristboard.com
http://www.carnivalofvenice.com
http://www.veniceworld.com
http://www.doge.it

Published on Sunday October 17th, 2004




Publish on Facebook
Mon, Feb 26 2007 - 08:17 PM

by
travler
Thank you for reminding me what a beautiful city this is.
Thu, Sep 28 2006 - 12:56 PM

by mrscanada
I do remember the movie. I was here in the summer and the canals smelled sooooo bad!
Sun, Oct 23 2005 - 04:50 PM

by toribio
YOU WRITE EASY I UNDERSTAND ALL
Tue, Jul 12 2005 - 08:58 PM

by ardelia
wow, I really must go visit Venice one day. How I envy you, after looking at your album of the month (THE PHOTOS ARE SIMPLY BEAUTIFUL)and your fantastic report! Keep it up..

Ardelia
Fri, Nov 05 2004 - 03:13 PM

by mistybleu
Hi Gloria,
I really loved your report, it brought back nice memories. I was there in April, and lost my camera, so I only have one or two shots, but your pictures are fantastic. Misty ((*_*))
Mon, Oct 18 2004 - 11:35 AM

by voyager
Outstanding report. You really managed to capture the essence of this wonderful city. My personal favorite memories of Venice come from putting my maps away and trying to see just how lost I could get in some of the back alleys and piazzas.
Mon, Oct 18 2004 - 09:20 AM

by bear495
Well done!! I especially enjiyed the report from the beginning. Your first sentence was sufficient to capture my attention. Keep up the excellent writing.

Russ

Sun, Oct 17 2004 - 05:51 AM

by rangutan
Those who visit Venice usually return. A tour of Europe is not complete without it, your descriptions justified. Great!
Information:
Login if you are a member, or sign up for a free membership to rate this report and to earn globo points!
Australia

China

Egypt

Greece

India

Indonesia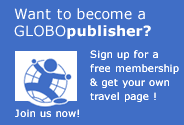 Rome

- murrayskinner