Jan 22, 2006 09:00 PM
Baobabs in Madagaskar for Wojtekd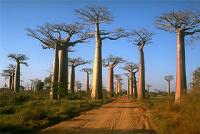 Quote Wojciech: (author) Thank you dear jurors!. I also like this picture.
But some others think it is not the best quality... you see: 11 votes but only ****... So where is my error?

Just to be sure there is no error whatsoever, perhaps there might be some room for improvement.

So i sat down and asked myself what troubles me when I look at your picture. There are some points: the cut off tree in the upper right hand corner, missing warmth of color, lack of sharpness

I did some research and found the picture next to this entry (I found it at www.inter-color.at) (look here if you want a bigger image (http://www.inter-color.at/intercolor_neu/madagaskar/bildergalerie1.html) copy and paste the link) This shows the same scene probably taken at the same place as yours. I for myself prefer this picture. The colors are warmer, the composition is better the street is longer the alley is more in the center the beginning of the trees is well placed (golden section). There is fore, middle and backgoround. Your eye can follow the road to the end...
(sorry for the bad quality when you enlarge it but it wasn't big enough on the original)

Just to give you some ideas...

Still yours is a great picture and I am very happy that you posted it and won the pom! Thank you for sharing






Feb 16, 2005 09:00 PM

Off to Tanzania

Hey Folks
Today I'm flying to Tanzania. I'm going to climb Mt. Kilimanjaro and going for a few days of safari afterwards...
Pics and Report will follow.
Stay safe
Martin


Oct 06, 2004 06:00 PM
Short trip to Italy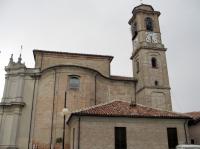 We will be going to Piemonte for a night to go for some wine tasting/buying. We are looking forward to 8 course Menus and nice coffee and grappa.... Staying in nice agritourismo where we get a good familiar atmosphere.
See you there






Jul 01, 2004 06:00 PM

Of to holidays

My wife and I will fly to Botswana for a fourthnight of holidays. Whe arranged a couple of days in the Deception Valley, one night in Maun, 10 Days camping safari (Okovango Delta, Moremi Nat. Park, Chobe Nat. Park, Vic Falls), and a couple of nights on the sambian side of the victoria Falls in the royal livingstone to relax after our safari.






Jan 03, 2004 09:00 PM

Booked my next trip

hey you know what I did book my trip for february!

Im going to climb mount kilimanjaro on the machame route. My plane will leave zurich on thursday 17 of february. I'll be staying 10 days in Tansania before I'll have to get back to work again.

The flights are confirmed the expediton needs some more members to be guaranteed to start.

Im busy improving my fitness level now!

martin






Jan 01, 1970 01:00 AM

X-Mas whishes

Merry Christmas to everybody from me!