After spending some 12 days in the Bahamas we decided to spend a couple of days in Miami to visit my brother in law's friend who lives in Miami. We cruised a bit around town but i was not impressed. Lot's of things to do when you are in Florida. Cape Canaveral, Disney World etc. Flat state thuogh.
Favourite spots:
Miami Marina, Great restaurant on the docks! Nice atmosphere en great service.
What's really great:
Can't be sure since we spend little time there. If you're a beach person and love to enjoy the sun it's gotta be the palce to be for you...
Restaurants:
Try the Marina.
Other recommendations:
Cape Canaveral
Published on Wednesday September 3th, 2003




Publish on Facebook
Information:
Login if you are a member, or sign up for a free membership to rate this report and to earn globo points!
Bahamas, the

Botswana

Ethiopia

France

Greece

Italy

Jordan

Kenya

Lesotho

Malawi

Morocco

Namibia

Portugal

Saudi Arabia

South Africa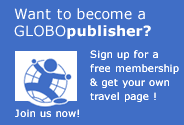 Maui

- murrayskinner