Abruzzo has no less than three national parks! This is first of them, the one actually named after the province, although it contains the names of Lazio and Molise as well in its full title. Scanno is just outside and Opi is in the heart of the park.
Not a bear! Quite nice to see, though.

You will do better if you start with a map of this little known area. I suggest you use http://www.viamichel-in.co.uk/viami chelin/gbr/tpl/hme/M-aHomePage.htm and put Abruzzo Opi and Italy into the relevant search boxes for region, city and country. Then adjust your scale so that you get Sulmona near the north and you go a bit south of Opi at the bottom. You will realise that the villages of Scanno and Opi are not far apart to the crow, the walker or even the car driver. However to get from one to the other involves a bus ride from Scanno to Sulmona, train from there to Castel di Sangro a walk across that town and, finally a bus to Opi. 'Not worth it' – do I hear you say? What if I tell you that each stage except the walk across Castel di Sangro could be treated as a scenic trip in its own right? To get timetables use the Trenitalia site and http://www.arpao nline.it/?page=or_la-roma On the latter, first click on 'Orari delle corse'. On the train section of the journey you actually pass through another of Abruzzo's National Parks, that of Maiella, with plenty of snow still lying in late May. It's not easy to explore it by public transport and it's one of the few places where I feel the absence of a car. Scanno itself is not actually within the boundaries of a National Park but the ride to it from Scanno passes through similar scenery, including a long and spectacular gorge and these divisions are often quite arbitrary. Opi is very much in the park, being close to it's principal town of Pesscasseroli [stress on middle syllable.] The National Park is one of the few places in Western Europe where there are still bears, wolves and lynxes, though you are lucky if you see one. Given that and its magnificent scenery, why isn't it better known? Probably simply because Italy has so many areas that are. Long may it stay that way.. By all means go and enjoy it for what it is – but if you take a rowdy group and spoil its nature, I'll do my best to haunt you!
Favourite spots:
Looking up near the Val Fondillo

Even though we are talking about one of the most visited of all European countries, I bet not many of you have heard of the Val Fondillo – no gloating; I hadn't either. It's described in http://www.discoveri-talia.c om/itinerariTema/tap-paItinerarioTem a.asp?Lingua=en&IDta-ppa=3 but what you don't learn here is that it's not necessary to turn across the stream for Monte Amaro. The main track continues for a very long way up the valley, providing a walk that's ideal for lovers of mountain scenery who can no longer make it to the tops. You will probably be told, as the Rough Guide says, that it starts about one km from Opi. This increases as you go from 2km at the bar on the way to the bus stop to 3km when you reach the main road! It's actually a good 2. There could be a chance of seeing bears in the early morning – I didn't try and we had only horses, cows dogs and lizards but the view over the densely wooded slopes to snow-filled peaks was terrific.
What's really great:
The 'main street' of Opi, less than 500 inhabitants.

Opi itself is a very small mountain village and it's still quite a pull up from where the bus stops. There's limited appeal in the buildings – the principal church and the public wash-place immediately in front, with narrow roads and steps al round leading to the very top of the village, is fascinating enough but there's nothing else. To get anywhere you have to start down to the road. It's a good idea to get the bus timetable if you are staying [from the arpa site above] if you want to avoid the full walk up. Allow just over a quarter of an hour for buses from Castel di Sangro before they reach Opi if you want the bus back from val Fondillo. There are spectacular views from the top of the village and the early evening light is particularly attractive.
Sights:
Children play after school. Scanno

We met people who had walked between the two villages and they had much enjoyed the views from the highest points. However, even if like us you can't envisage doing that, you shouldn't be put off the delightful village of Scanno simply because it's just outside the national park. The ride there is a real treat and it's a real Abruzzo village, where some of the oldest residents still wear traditional dress, though sadly this seems unlikely to survive the present wearers.
Two people actually got up to show us parts of the route to our hotel, on the farthest side from the bus, such is the friendliness and courtesy of the residents. Streets are very steep and some of the smaller ones have steps.

Accommodations:
Main street of Scanno where bus stops - old town to the right.

The Hotel Fresilia [see travel tip] in Opi is a fine place to stay and you might as well do it on a half-board basis. It's next door to the TIC [often closed] and not far below the church. It's a set menu with the husband cooking [very well indeed] and his wife, Anna, waiting on. Their 13 year old daughter [2006] seems to be pretty adept in English. You have probably gathered already htat it's very friendly.
The Grotta dei Columbi in Scanno is also a good bet for half board, although there's a reasonable choice of restaurants. Scanno is not a big village and most younger visitors opt to stay at the lake a couple of km down the road. For some reason the proprietor had us down as having booked for the following week but the hotel was almost empty. Pam's trout and my sausage were both much appreciated.

Nightlife:
I doubt there is much of a club scene in either of these small villages although they do seem to have real communities. You would probably feel something of an intruder in any local activity unless you had friends locally.


Hangouts:
Wolves? Hardly, but don't you like the baby?

In Opi there's only one bar, half way up from the bus stop to the village church. There never seemed to be many people in it. There were always a few people sitting in a tiny garden area in front of the church.
In Scanno there is more choice of drinking places but a lot [well, a very few but a fairly high proportion!] sit outside on the seats conversing and the children play football or other games just inside the village away from the buses.

Restaurants:
As we ate where we stayed on al three nights spent between these two villages, I have nothing to add to what I've already said – but just saying this allows me another photo!


Other recommendations:
I don't find it easy to learn from the websites in this area because the best are in Italian only but there's an obvous walk from the back of Opi along another valley seen from the top of town.
Photos don't present a problem and both villages are to be seen on http://www.initaly.com/regi ons/abruzzo/abbparkalbm.htm
If you are worried that I said there were three national parks in Abruzzo and I've only mentioned two in this report, don't trouble yourself. I shall soon be doing a report on [a bit more than notionally] Santo Stefano di Sessanio and that will take care of the problem.

Published on Monday June 5th, 2006




Publish on Facebook
Sat, Jul 08 2006 - 12:29 PM

by
jorgesanchez
Again 5 points! you are a machine to produce 5 stars reports!
Mon, Jun 19 2006 - 06:50 AM

by ravinderkumarsi
Thu, Jun 08 2006 - 08:49 AM

by marianne
No wolves, no bears but horses instead. Probably safer. I especially like the snow-clad mountain photo. (val fondillo)
Mon, Jun 05 2006 - 05:53 PM

by st.vincent
No wolves or bears maybe, but a couple of nice little villages.
Mon, Jun 05 2006 - 05:07 PM

by mistybleu
What an exquisite place to visit; the pictures are really captivating.
Information:
Login if you are a member, or sign up for a free membership to rate this report and to earn globo points!
Belgium

Bosnia - Herzegovina

Croatia

Czech Republic

Faroe Islands

Finland

France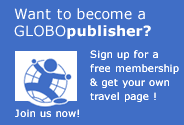 Como

- murrayskinner