On one of my journeys around Sweden, I spent a moment in Oslo, Norway as well. This was a very short trip and a while ago so all I can give is the statement that I've been there. Hope you enjoy it ;)
Nothing spectacular happened. Saw the place and ate a pizza (which was expensive). It's the first place ever in the world where my Swedish skills have been useful even though, obviously, they speak Norwegian in Norway. The language is more clear and sounds better too. If you're into Northern European languages, pick Norwegian. Anyway, the place was very clean and items were very expensive as well as were the services compared to most places. I've to go back to see the actual tourist spots since we (a group) checked only a small slice of downtown. This was more than a decade ago. It's time to visit Norway again sometime soon.
Favourite spots:
Since I only saw a small slice of downtown area, I've to say it's the slice of downtown I saw.
What's really great:
Cleanliness, good weather and that same slice of downtown I've been going on about.
Accommodations:
Couchsurfing as possible, friends and relatives. Maybe camping, if you're into it.
Restaurants:
Eat at the locals where possible. If you've spare money pick a high class place since it's all expensive anyway.
Published on Monday January 10th, 2011




Information:
Login if you are a member, or sign up for a free membership to rate this report and to earn globo points!
Estonia

Finland

Norway

Sweden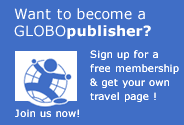 Tau

- gardkarlsen