I have always wanted to visit Genova and some seaside resorts of the Ligurian Coast and I decided myself to go there this summer in July. I stayed one week and I visited almost everything I planned.
I took the train from Milan and I arrived to Genova in 2 hours. I had accomodation at a B&B right in the centre of Genova, close enough to the Acquario and Porto Antico. I visited the beautiful Duomo, Chiesa del Gesu, Palazzo Reale. There is a beautiful Gallery of Mirrors inside of the Royal Palace. I also visited the Acquarium, where there are pinguins, seals, tropical fishes, sharks, Napoleon fish, tartarugas, etc. In the Old Port I had the chance to see the parade of the world's tall ships, ( vellieri ) including Amerigo Vespucci! It was very impressive! I saw the sailormen climbing and opening the velle. I also saw the house of Cristofor Colombo. I made a trip by train to Portofino too! It is like a jewel, surrounded by palm trees and exotic plants on hills. The best panorama of it is from Castle Brown. I also went to the beach at S. Margherita Ligure, which is an elegant seaside resort.
Favourite spots:
Porto Antico, Piazza Ferrari, Via Garibaldi, Piazza Dante, Chiesa del Gesu in Genova, Portofino
What's really great:
The Tall Ships in the Old Port, Portofino view from Castle Brown
Sights:
The Old Port
Piazza Ferrari with the big fountain in the middle
Accommodations:
B&Bs
Published on Thursday August 23th, 2007




Publish on Facebook
Information:
Login if you are a member, or sign up for a free membership to rate this report and to earn globo points!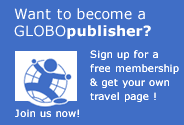 Rome

- murrayskinner