The Small Isles are Eigg, Muck, Canna and Rum. Calmac runs a passenger ferry to them, which varies according to the day of the week. There is also a car ferry to Armadale on Skye and Bruce Watt Cruises cater for pedestrians to Knoydart..
There's one problem about going to Mallaig by car from the south. There are two wonderful land routes or you could go via the Skye Bridge from Kyle of Lochalsh and the ferry from Armadale. This is magic as well. The trouble is that you can't divide three by two to cover all three routes in one trip and you will be left longing to see the one you have missed. The solution is simple. Go more than once. It's worth it. Mallaig is wonderfully situated and however you get there, road, rail or ferry, you won't want to leave in a hurry. There are usually fish and chips for sale; the freshness of the fish will delight you. I've not been in the first pub up from the quay and it may be great – but the second one does have an extraordinarily good selection for those who want to try scotch and any of their meals that have come from the sea are something special. I'm not choosing the route for you. Your choice is between going via Fort William, Glenfinnan and the Road to the Isles or taking the Corran Ferry from north of Ballachulish and going through, Strontian and along the shore of Loch Sunart before following the coast of Moidart north. Glenfinnan has a monument and information centre in the spot where Charles Edward Stuart raised his flag to start the 1745 rebellion. They reached as far south as Derby [England] before retiring to Culloden near Inverness where they were massacred. This led to the destruction of the highland way of life and eventually to the notorious clearances. History notwithstanding, the view down Loch Shiel or, better still, a walk or cruise down it is to be commended. The area west of Loch Lynne, reached across the Corran Ferry, appears below. The routes converge at Arisaig and the lovely sands here and at Morar may delay you.: You can walk beside Loch Morar's north shore and cross a small pass to [Sea] Loch Nevis to pick up Bruce Watt's boat from Tarbet – check times; they're not exactly frequent! Lastly there's a fine ship chandler's shop
Favourite spots:
For your first trip to see the Small Isles, try to go on the day when you leave Mallaig at around midday and do a non-landing tour round all the islands. [Others will land, sometimes using small boats that put out from the islands.] later you may want to spend a few hours on Rum or Eigg, arrangeable on the right day from either port. Eigg's history is pretty tragic in parts but at the end of the 20th century the islanders managed, in combination with some conservation bodies to buy the island from the Laird. The island has some accommodation and is notable for the singing sands [whether they do or not, they're pretty gorgeous] and for the Sgurr, a distinctive hill with fabulous views. Rum is a beautiful island with its own range of Cuillins, not as sharp as those of Skye [see Elgol report] but far less trodden. In spite of some websites suggesting the contrary, I believe it is not possible now to stay at or visit Kinloch Castle. [see www.kcfa.org.uk/cast-le.html]
What's really great:
Knoydart is not an island, but as far as roads go, it might as well be. There are roads at Inverie – but they don't connect with others in the UK. Pedestrians have two means of access to Knoydart, one a long walk from a very minor road off the route from Fort William to Loch Ness, the other by Bruce Watt ferry from Mallaig. If you were not told in advance, the pub might come as a major surprise. It is more like an English village pub than anything you might have imagined. The other [pleasantly] amazing thing is the friendliness of the residents. Perhaps it says more about the visitors they get that they are able to be so open with us. There are two superb mountains. Sgurr na Ciche is cone shaped and dominates the view at the top end of Loch Nevis. The other, Ladhar Bheinn – pronounced a bit like Larven - is between Lochs Nevis and Hourn, the latter often compared to a Norwegian fjord. I only saw the view instantaneously as the mist broke for a minute but how I wish I could go again!
Sights:
South of Mallaig and west of Loch Lynne is the large area that comprises Ardgour, Ardnamurchan, Morvern and Moidart. The first notable feature is the extreme peace.
. I've sat near the west shore of Loch Lynne in peace and near solitude and watched the traffic crawling up the other side on the main road from Glencoe to Fort William.
It's completely different from Knoydart, too. Nobody would describe this as a wilderness. There are no Munroes in the whole area although Rois-Bheinn, Garbh Bheinn and Beinn Resipol top 2750 and are impressive looking mountains and fun to ascend. However Morvern never tops 2500 and there is no significant height in Ardnamurchan.
In spite of this, Ardnamurchan is an area that shouldn't be missed. With its large sandy beaches and dunes it's more like the west coasts of the islands. Ardnamurchan Point is as far west as you can get on the mainland of Great Britain. From nearby Kilchoan there is a car ferry to Tobermory, Mull's picturesque capital.

Hangouts:
The Strontian Hotel
The Old Forge, Inverie

Other recommendations:
Loch Shiel, that stretches from Glenfinnan in the north to Acharacle, only two miles from the sea, is a real beauty and allows for fine walks. There are cruises from the Glenfinnan House Hotel – see travel tip. The loch can also be reached by a very minor but scenicroad from Strontian on [Sea] Loch Sunart, a delightful village with a reasonable provision of accommodation.
Nera Acharacle an unclassified road leads to [Sea] Loch Moidar and Castle Tioram. The castle is an unsafe ruin, sadly, situated on a semi-island, but it could scarcely be more atmospheric.

The railway line from Fort William [indeed all the way from Glasgow] to Mallaig is one of the most scenic in all the UK.

Lastly there is a short and frequent ferry [no reservations] from Lochaline in Morvern to Fishnish on Mull.

Published on Friday April 15th, 2005




Publish on Facebook
Sat, Apr 16 2005 - 06:49 AM

by
magsalex
Sat, Apr 16 2005 - 04:58 AM

by britman
Loved reading this report. In fact it has rekindled my desire to visit the west coast of Scotland - I adore it! I would like to take in the distilleries of Islay to sample some of there 8 malts!

I only give you four starts - because of lack of photo's. They would have given 5+ .

Cheers Brit


Information:
Login if you are a member, or sign up for a free membership to rate this report and to earn globo points!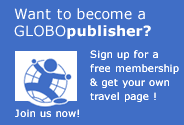 York

- kathmandukitten