Siracusa is in the southwest of Sicily and can be reached by bus direct from the airport at Catania. You can look at Etna while you wait, after a wonderful flight in seeing Etna and the Aeolians from the air.
I had looked at a map in advance and recognised that the bus would continue beyond the point nearest to the hotel – so I should gain if I could recognise the right stop. I did and, proud of myself, I extracted my case from the storage compartment and helped a very sightly woman out with hers. I returned to mine – woe and calamity, it was NOT mine. I was just in time to stop the sightly woman, who was getting into a car and I was given a lift to pursue the bus, conversing with the driver in Spanish as we went! I guess all's well that ends well. The bus stops at the beginning of the island of Ortygia, where the old town is situated, as opposed to the oldest remains, which are in the Parco Archeológico at the other side of the station and my hotel. Since that area is called Neapolis, it presumably succeeded an even older polis somewhere else! If you don't know other mediaeval Italian towns, Ortygia is quite exciting but I have to admit to a little disappointment. I have given more detail below. There was no disappointment, however, at the Parco Archeológico. In some ways Siracusa sits awkwardly in a Sicilian itinerary, because there's no direct connection with large cities, other than Catania and that's not a particularly appealing route. However I should advise you to put up with that rather than miss the three sights in the Parco covered in the next section. In the afternoon the tobacconists are nearly all shut, which is something of a problem if, like me, you haven't thought to buy bus tickets in advance. Having decided to walk to the purpose built archaeological museum, I was not pleased to find it closed at a time when the guidebook said it would be open. You live and learn and I've been more careful since!
Favourite spots:
Paradise Quarries! what if you worked there?

There's no competition for the favourite's slot except between the individual sights in the Parco Archeológico. I pass on that! LATOMIA PARADISO [Paradise Quarry] A quarry may not sound exciting but you won't be able to miss this one anyway. The vertical cliff contains a cave, poetically called the ear of Dionysus [about 60m long and 20m high]. However it was the thought of the slaves having to work through the baking heat of summer without shade that really struck me. I should think Hades might have come higher in their thoughts than any notion of Paradise. GREEK THEATRE: Believe me, this is BIG and spectacular. It dates from the 5th century BCE, though much consists of later addition. At its prime it would accommodate 15,000 people in 9 sections, each containing 59 rows. ROMAN AMPHITHEATRE: This was built in the 3rd century CE and was used almost exclusively for 'sports', the entrances for beasts and gladiators being readily apparent – now a scene of profound peace.
What's really great:
Ortygia probably disappointed me mainly because I'd not realised that you can't get to the end of the island with a view of both sides because it's still in military use. What's more I was not yet geared to expectation of some pretty striking poverty. Here endeth the negative aspects. There is plenty to appeal in the squares, the narrow streets with washing hanging across and the buildings and cafes, as well as in pursuing the coasts as far as you are able. The cathedral's exterior doesn't strike as particularly beautiful but is superlatively interesting with ancient Doric columns from an earlier temple to be seen as well as Norman walls. I've not seen any literature on the interior but I did consider it rather wonderful, with its massive Norman columns. Some classical remains are to be seen and might rate more attention, if it were not for the marvellous Parco described above, which makes them seem pretty small beer.
Sights:
Everything I've read persuades me that the Archaeological Museum was a major miss and the little that can be deduced from outside confirmed this. A phone call to confirm opening hours might save disappointment. [0931/464022]
Accommodations:
The Bel-Sit is up the hill from Ortygia [walk down but you might prefer to ride up].
It has a lift and the rooms are comfortable. There's nothing particular to note about it, except its convenient situation, but I should be quite happy to stay again.
Via Oglio 5. Phone: 0931.60.245


Restaurants:
Ear of Dionisus [orrechio di Dionisio]

Nonna Margherita at Via Cavour 12 no longer has its wood-heated ovens mentioned in my guidebook but is a very acceptable place for a fine pizza.

La Finanziera at Via Epicarmo, near the Bel-Sit was described by the Rough Guide as inexpensive. I found this a misstatement of monstrous proportions. Another lesson – know what you are going to pay before enjoying your meal.


Published on Friday January 28th, 2005




Publish on Facebook
Sun, Jan 27 2008 - 01:00 PM

by
vbx000
This is a really great report with beautiful pictures! Its amazing how in the "paradise quarries" picture you see that tiny little house, its dwarfed by everything surrounding it!
Sat, Jan 29 2005 - 04:15 AM

by ravinderkumarsi
hii david ,
how are you and how is life.
well this is another wonderful report from u.
Information:
Login if you are a member, or sign up for a free membership to rate this report and to earn globo points!
Italy

Malta

Man, Isle of

Montenegro

Morocco

Norway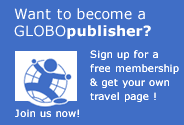 Como

- murrayskinner