Welcome to my travel log and thank you for stopping by.
I have been travelling a lot in my past, recently I started to ad some trips to my travel log. This keeps me focusing on my next trip :-), plus my friends at home get a clue where I am off next
Apr 02, 2007 06:00 PM
Las Vegas baby!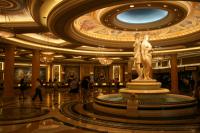 Just got into Las Vegas. What a huge temperature difference. This moring we had 30 F. (-2 C) and now we are in the 90's!!
The place seems to be just mad. So I dont have to much time for posting. Must go out to the strip!!






Apr 01, 2007 06:00 PM

Grand Canyon, Arizona!

We slept over at an Inn 150 miles of Grand Canyon. The distances are incredible!! Roads that seem to have no end at all!

Grand Canyon is... woww.. no words for that!!!!
I took over 200 pictures, no kidding and I don't think that there are many to delete.
The sunset was one of the most beautifulest I ever saw. I wanted to go down for a daytrip hike so badly with my tent, but could not unfortunatelly as Fernanda does not have any camping geer like a sleeping matraze. That was really a pitty. Going for a one day hike must have been a blast, espezially as we are having full mun right now!


Mar 31, 2007 06:00 PM
Grand Canyon, here WE come!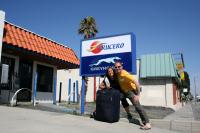 I met a girl from Brazil yesterday evening and took off to Grand Canyon on April 1st! The funny thing... and this is not April fulls joke... I helped her with her suitcase and when we entered Palm Springs we got a strange phone call from the Hostel in San Diego. That suitcase... was totally not hers!! She thought it is mine and I thought it was hers. That was pretty holarious as we discovered this in the trunk. We mailed it instantly at a Greyhound bus station to LA so the person got it the same time she arrived in LA. Can you believe that?! :-)

Anyway Fernanda seems to be nice. Let's see how things go. Next stop Grand Canyon!


Mar 30, 2007 06:00 PM
Coronado - San Diego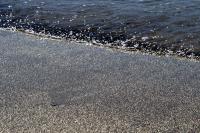 Met 2 guys from Phoenix and 2 girls from Sweden this morning. We all went to Cornado today. Breath taking beaches and loads of fun playing beach volleyball together.

The beach has some kind of wired sand. Looks like gold if you come close! I am wondering what makes it so glittery. The picture shows a close up of the sand there.

Will be off ot Las Vegas or the great Canyon tomorrow morning!


Mar 29, 2007 06:00 PM
San Diego -> Tijuana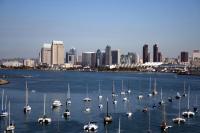 Met some great guys from England and will hop on a regular bus to Tijuana in a few hours with them. Sounds like great fun to me. Weather is stunning, the city is a good place to be. The gas lamp quarter where I am staying is quit nice and does make up for all the hasle I had in Los Angeles downtown. I even got free parking in downtown :-)

there are still 11 days left and I will be off to Grand Canyon on April 1st!!! My camera is desperate for some great nature shots.
Grand Canyon is over 2 billion years old and supposed to be one of the most stunning and breath taking views on the planet. It gets me pretty exited to go there.

There is actually not much to take pictures off in San Diego. Somehow I managed anyway to take over 400 pictures on my trip so far!!! Couple of good one's, too :-) So stay tuned...!

... just came back from Tijuana.

That was not worth going there at all! Tourisnepp par excellance. The beer was cheap, and ok. Guess this is how they try to get you drunk and into the bars. Whatever. Came back 2 hours later and left the other 2 guys as I felt a bit embaresed with them... anyway.. Thats live.


Mar 28, 2007 06:00 PM
San Diego!!!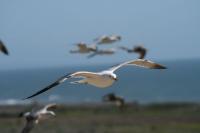 What a difference!!! Just arrived a few hours ago, but I can already tell this is the place I wanna be for a while. It is so much nicer then LA. The coastline before SD was so wonderful as well. If you do the same route, make sure to stop in Oceanside and on the places along PCH.

The night live is in the Gaslamp district seams to be great. One nice place to the other! My advice to anybody going to California: Skip LA!!!! Or if you must go to LA, go to Venice or Santa Monica. Those places are OK, although they do not compare to SF or SD. I wish I would have skipped that part of the journey and the coastline between SF and LA, that would have made live much nicer. The coastline was disappointing in my eyes. If you have been to Europe you have pretty much seen all that is to be seen there. I might be wrong and I am sorry if this sounds a bit ignorant, but that is my opinion and compared to for example Croatian coastline... it just can not keep up. I am more looking into seeing Grand Canyon now.

Let's see what San Diego has to offer tomorrow morning! Have to get up early to move the car to avoid another parking ticket! :-)


Mar 27, 2007 06:00 PM
Oceanside - 30miles north of San Diego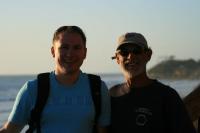 After a fascinating night on a local club in Venice with a friend and a good night of sleep at her place I am off to San Diego! The weather is wonderful, sun is shining with temperatures in the upper 60's F! So mood is up again and the holiday starts to become really great! Downtown LA was really depressing, although I met a great guy who showed me a fascinating local caffee in a back allay where the locals hang. I found most of the americans very kind people, very nice and helpful. One just has to stay off the places where all the poor homeless are around. One thing I am starting to love is the small little cup holder in the car for coffe to go. I know it sounds a bit strange, but that thing is so comfortable! I'll get one once I am home for my car :-)

I met this nice guy at the beach. Got a good chat with him about california and how it is living here. Not sure, but I guess he is kind of homeless too, or similar as he carried around some strange luggage. Anyway was good talking to him.

Will stay in San Diego for 4 days before I head for Grand Canyon. I got a free pass for all the national parks in California from Sabine! How great is that!!!


Mar 26, 2007 06:00 PM
Venice Beach, Santa Monica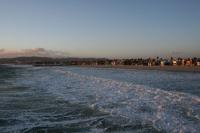 Met a friend of a friend yesterday in Venice and we went out for a few drinks with others. Looks like renting a car was the only chance to get around in the US. I don't see another way to travel at least in LA as public transport is very poor. Can you believe it, I have not found one internet caffee so far!!! So no possibility to put in my U3 stik and upload some pictures, cause the hostel computers are pretty much slot machines. I feel like somebody has turned the clock back 5 years. How come? I would have not believed that if somebody toled me before.
Anyway, I will stay over at her place for a day and move on to SD tomorrow. Looks like the weather is getting better. Sun is shining and clouds are gone. Still in the mid 60's F. brrrr.....
:-) So there is hope on the horizon. Never give up, right?!


Mar 26, 2007 06:00 PM
My new collection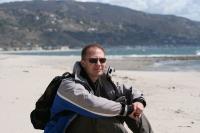 well it starts to get funny. This morning I was about to check out of the hostel in Hollywood where I parked the car neer bye. Parking till 8am free. I tried to feed the parking meeter at 8.05 but it was out of order, checked back at 9.00 but still not working. As I came back to at 9.30 I got another ticket! Do you believe that?! I asked the police officer why, since the meeter was not working I could not pay. I learned that if it is not working you are not allowed to use the parking lot. They fixed it at 9.10 and gave me a ticket right after that!! So now I have the 40$ one as well, next to the 25$ one from Monteray bay :-) I think I will start collecting them. Let's see if there is a 60$ one! :-) Puhhh.. that holiday starts to get reeeeealllllly expensive! Even at the beaches there is a 10$ day use fee *you have to pay the whole day*. Well, who cares. Somebody has to support america. I am starting off with parking tickets :-)
Let's see where this takes me from here.

I met a really cool travel buddy from Korea this morning, so just for today. Tonight I will stay over at a friends place so at least that will save some money :-)

The picture shows Malibu Lagune.

Sun is shining and that money thing will not kill my holiday! *At least I keep telling me that*


Mar 25, 2007 06:00 PM
Hollywood, LA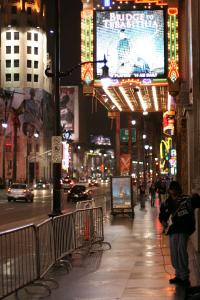 So this is it... glorious holiwood. My trip starts to get a bit disapointing. LA is actually very depressing, so much poverty on the streets, especially in downtown LA. Santa Monica seems to be better.
Might move on to SD as early as tomorrow morning. The weather is brrrrrrr... 64F!
Should I have picked the wrong destination for my holiday?
Let's see where I go from here. Can only get better!